Botten and Youngs honored as teachers
This article submitted by Linda Stelling on 10/27/98.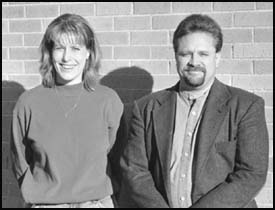 Tammy Botten and Jeff Youngs were selected by their toughest critics...their former students, to be honored in the fifth edition of "Who's Who Among America's Teachers."

The students were requested to nominate teachers who made a difference in their lives by helping to shape their values, inspiring interest in a particular subject and/or challenging them to strive for excellence.

Botten teaches tech math to ninth and 10th graders and chemistry to juniors and seniors.

Botten is a graduate of the University of Wisconsin-Superior. She has taught at the Paynesville Area High School five years.

"I love kids and like the challenge of teaching. I enjoy the way I can relate to students in my subject areas," she said.

Youngs has been teaching at the Paynesville Area High School seven years. He teaches juniors and seniors government, law, psychology, and current events.

Youngs attended Southwest State University and graduated from Gustavus Adolphus with degree is psychology. He was one of 30 students selected to do their internship at the National Institute of Mental Health in Washington, D.C.

"My family enjoys living in Paynesville and we are taken by the people and how open and helpful they are," Youngs said.

"I like the constant challenges of teaching even when you think everything is set to go, there are still surprises. Teaching doesn't get stagnant, there are always challenges to face," he added.

In response to his honor, Youngs said it was nice that a student thought enough about him to nominate him for the recognition. "It is always great to learn you have touched one student positively," he added.

Don Kjar, Paynesville, a teacher in the Eden Valley School District, was also among those honored.
---