Betty Crusoe retiring after 35 years at the Good Samaritan
This article submitted by Linda Stelling on 10/27/98.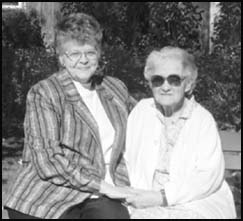 In 1959, Betty Crusoe (seated at left with Gertie Jacobson, resident of the center) started working at the Good Samaritan Care Center as a night nurse aid. Today, she is retiring as the centerĻs administrator, a position she has held since 1978. On Sunday, Nov. 1, she will be honored for 35 years of service, with an open house from 1:30 to 4 p.m.

Crusoe said Friday, Nov. 20, is her last day of work as she starts another milestone in her life, retirement.

Over the years, Crusoe has worked as a morning cook, in the business office and in the social service department. In 1978, she took over the reins of the center as its administrator, succeeding Bill Schultz who held the position for three years.

Prior to Schultz serving as adminis-trator, Pauline Hendrickson, CrusoeĻs mother held that position 20 years, 1955 to 1975.

"When I was working in the office under my mother and Schultz, I gained a lot of experience," Crusoe said.

While working at the center during her early years, Crusoe returned to college to earn her long-term care administration degree. She attended school at St. Cloud State University, Willmar Community College and the Metropolitan Community College in Minneapolis.

After 35 years at one place of business, Crusoe has seen many changes. "In the 1970s, the activity department was expanded to what it is today. Prior to that time, it dealt mainly with craft work and no outside activities," she said. "It includes many recreational activities besides crafts. I think it is wonderful to see what men can do with crafts from quilting to counted cross stitch."

Also among the changes has been a dramatic change in medical care. It is enabling people to live longer. "If someone falls and breaks a hip, it is not as traumatic as it once was years ago," Crusoe said.

"We used to be excited when someone celebrated their 80th or 90th birthday. Today we have four residents over the age of 100," Crusoe added.

Crusoe said it has been hard to keep a home-like atmosphere for the residents with all the regulations required by the state and federal government.

One change Crusoe enjoys is the ability to offer staff training at the center. "With the aid of videos and trainers who go to the workplace, employees are offered all the opportunities they need to improve their skills at home," she said.

Other changes have been the redecorating, addition of the patio, and security system for Alzheimers residents.

Crusoe feels that people in administration have it easier if their center is in a rural setting. "We see so much community involvement with the residents. The churches, Boys and Girl Scouts, 4-Hers all help and it means a lot to the residence," Crusoe added. "It is great to see the interaction among the youth of our community and the residents."

"I have enjoyed working at the center. I like challenges. Working with older people gets in your blood. They give back so much more than you can give to them. Their appreciation and interest is fantastic. It isn't easy for them to give up their homes."

Crusoe went on to say the center has a good track record and hasn't had a deficiencies rating in over two years. The center has 48 full and part-time staff members.

Tom Kooiman, administrator at the HillTop Home in Watkins, will serve as interim administrator at the Good Samaritan Care Center until a replacement is found for Crusoe.

After retirement, Crusoe said she expects to spend more time with her family and be able to get ready for Christmas. "We are a close knit family and I want to be able to spend some time with my grandchildren," she said.

Crusoe lists as her interests and hobbies as whittling, traveling, and babysitting her grandchildren. She also hopes to be able to start quilting in her retirement.