Alstead retires after 32 years with the Minnesota State Patrol
This article submitted by Michael Jacobson on 10/27/99.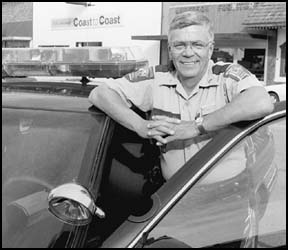 Larry Alstead took a final drive in his patrol car yesterday. He turned in his badge and his gun and signed his retirement papers, too. His 32-year career as a patrolman for the Minnesota State Patrol ended because he opted for early retirement on his 55th birthday.

Alstead, who served 32 years and 19 days, did his last regular road shift on Thursday and also did an overtime shift on Saturday.

Growing up near Evansville, Alstead first became acquainted with the state patrol through his parents, who had friends on the force who would periodically stop at their house. "Basically," he explained, "I wanted to become a trooper when I was eight years old."

After high school and a stint in the U.S. Navy, he worked in the iron industry for 18 months until he was accepted into the state patrol academy. Since then, he said the most enjoyable part of his job has been doing firearms training--with pistols, shotguns, and automatic rifles, in recent years--for the cadets at the academy.

Alstead's first post was in Ortonville for three years. He was transferred to Kandiyohi County in October 1970. While stationed in Paynesville, his patrol route has included all of Kandiyohi County and part of Stearns County, roughly from Brooten to Lake Henry to Richmond.

The Minnesota State Patrol, formerly the Minnesota Highway Patrol, assumed jurisdiction over all the roads in the state in 1974, along with that name change. The patrol is responsible for traffic and any other violation that occurs on a main trunk highway, according to Alstead, who has dealt with bar fights, stabbings, and shootings. A surprising number of domestic disputes occur on the highways. Alstead said he has responded to domestic incidents that occur in cars, along the shoulder, at a house near a highway, and even at a grocery store.

When he was a kid, the officers who stopped at his parents' house would tease him that if he wanted to become a patrol officer he would have to know how to deliver a baby. "I'm still waiting to deliver my first baby," he said last week.

Like most jobs, there'll be parts of his job that Alstead will miss and days when he'll be glad that he's retired. "I basically enjoy meeting people," he said. "I have good friends who are police officers. I'm going to miss that."

"The worst part of my job is going to accidents with kids involved, especially fatalities," he continued.

Undoubtedly the memories he has from these sort of incidents is why he's such a staunch believer in seat belts. "I'm not saying you can't be killed (while wearing one), but it keeps a minor accident minor," said Alstead, who, on numerous occasions, has freed passengers in a rolled vehicle who were suspended upside down by their seat belt.

Technology has changed dramatically since Alstead started on the patrol. Most drivers are familiar with the radar now in use. Just the sight of a patrol car causes many drivers to react by hitting their brakes.

Alstead remembers when speed traps required a special car that would put two wires across the road and compute the speed of passing vehicles. Or officers could pace a speeding car by following it and watching the odometer. Citations were issued for driving in excess of 55 miles per hour, or in excess of 60 miles an hour.

Now laser radar is coming as well as mobile data terminals, basically a computer in the patrol car. "Years ago, when you ran a check on a person," said Alstead, "it could take an hour to get it back."

While computers have helped in many ways, the paperwork involved with law enforcement these days can still be overwhelming. The paperwork for a DUI fatality, Alstead estimated, would take around 40 hours to complete.

Alstead said his replacement might not come until a cadet class graduates in August 2000. With less than 400 officers on the road and more than 14,000 miles of roads to cover, the patrol is spread fairly thin. Alstead said voluntary reporting by citizens is very helpful in locating problems on the road.

To be a patrolman, Alstead said, you have to enjoy being behind a wheel. "I've put a lot of miles on my seat," he said. What he dreads are the nights. Officers typically work a week of day shifts and then a week of nights.

For his retirement, Alstead will relax for now. He wants to do some more hunting and fishing, and has plans for some travel in the future. He plans to live by his social calendar, not his work schedule. "The hardest part of the day is going to be getting up in the morning and deciding what to wear," he predicts of his retirement. "I won't have to wear a uniform anymore."

One thing for sure, he will be sitting home during the first snowstorm this winter, basking in his retirement, as some other patrolman navigates the snowy roads to assist accidents and cars in the ditch.
---