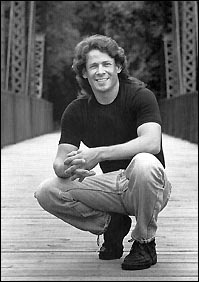 Since moving to Central Minnesota in the early 1980s to attend St. John's University, George Maurer has used the landscapes of the area to inspire his music.

Maurer released his first CD, Behind the Pine Curtain, in 1986, starting his independent record label in his dorm room. The title of his first record referred to the forests that surround the Collegeville, Minn., campus.

He recorded that first album of solo piano improvisations, in part, he said with a laugh, to discourage eaves-dropping college students from laying siege outside his practice room in the music department. "I had no idea that (the album) would take off like it did," he said.

In the 15 years since then, Maurer has enjoyed a successful new-age and jazz career, first as a solo artist for 12 years and then as the leader of the George Maurer Group, which strengthened his ability in jazz. He is "Minnesota's premier new-age pianist," according to KARE-TV.

Maurer graduated from St. John's in 1988 with a degree in music composition but still lives in the St. Cloud area. He runs Pine Curtain Records when he's not recording (he just released his 10th and 11th albums) or out on the road performing. "It was a good place to hang my hat and stay close to some creative waters and earth," he said of Central Minnesota.

Maurer will be the first professional performer to play in the new school auditorium when he gives a concert here on Sunday, Oct. 28, at 3 p.m. The event is being organized by the school's music department and proceeds will go to cover the cost of the new grand piano. Tickets for adults cost $10.

"I hear they have a brand new grand piano and a brand new auditorium, so I'm ready to give it a workout," said Maurer, who has toured across the country and played at Orchestra Hall and Carnegie Hall. He has played on pianos with funky graffiti in frat houses to the finest grand pianos in concert halls, he jokes.

After three years with his jazz group, Maurer started playing solo improvisations again earlier this month. He plans to use a mixture of piano improvisations and storytelling at the Paynesville concert. "George Maurer has a feel for his instrument that makes for an immediate emotional response…," wrote a review in the Minneapolis Star Tribune.

Music is a way to share life stories, he feels, and an auditorium can be a focal point for community fellowship. Just as high school sports can be a community builder, so can art, and an auditorium provide the meeting place.

Maurer, who recently released two new albums ( a retrospect of his solo work and a live album with his jazz group), thinks that his jazz focus over the past three years has added color to his solo playing. He felt the St. Cloud audience responded well to the debut of his new songs earlier this month and looks forward to a second performance on Sunday.
---
Contact the author at paypress@lkdllink.net • Return to News Menu
Home | Marketplace | Community
---