While the Mayo Clinic and the University of Minnesota are studying the use of virtual colonoscopies as a screening tool, the procedure has been approved by the medical staff at the Paynesville Area Health Care System.

PAHCS is believed to be the only facility in the state to offer the procedure and is certainly the only 30-bed hospital in the country to offer it, said Mark Dingmann, radiology manager for PAHCS.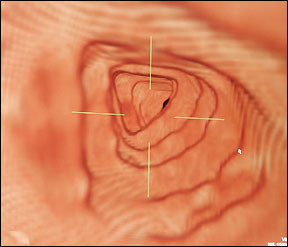 As a screening tool, virtual colonoscopy aims to reach the patients who should have an exam, but don't want to undergo a regular colonoscopy, said Dingmann and Troy Mansell, the CT specialist at PAHCS. "What we're trying to do is give them a procedure that's less invasive and relatively cheap compared to a regular colonoscopy," said Dingmann.
This is the digitized re-creation of the interior of a colon provided by PAHCS's high-speed CT scanner and a powerful computer
"Everyone over 50 needs to be screened for colon cancer, according to the American Cancer Society," added Dingmann.
While a regular colonoscopy remains the best test for colon cancer, a leading cause of death, more people may be willing to have a virtual colonoscopy. The procedure involves a high-fiber, low-residue diet for two days, inflating the colon with carbon monoxide (using a two-inch enema, much less than the scope needed for a colonoscopy), and two 30-second CT scans.
One recent virtual colonoscopy patient at PAHCS was a 49-year-old female who underwent a regular colonoscopy due to rectal bleeding and a family history of colon cancer. But her colonoscopy was incomplete because the scope could not advance fully. She had her exam finished via a virtual colonoscopy and liked that it required no sedation and was extremely fast, requiring less than 10 minutes for the actual scan.
"It's faster. It's not as invasive," said the nurse, who works at PAHCS. "After the procedure, you can go right back to work." Without the discomfort following a regular colonoscopy, she added.
A regular colonoscopy remains the best screening tool, Mansell and Dingmann said, but the problem is that because it is extremely invasive many people opt not to be screened.
This makes the virtual colonoscopy a desirable option. "The more people (we screen), the better off we are," said Mansell. "As a patient, the earlier we detect it, the better off you are."
A virtual colonoscopy, which is less intrusive and less invasive, makes a better screening took, Dr. Randy Nelson, chief of staff at PAHCS, told the hospital board recently, because it will attract more patients. "I do believe this will be a standard screening procedure," said Nelson, "but it may take years for it to become a reimbursable expense."
The virtual colonoscopy regularly identifies tumors one centimeter in size, said Nelson; smaller tumors are not likely to be malignant.
The radiology staff at PAHCS started looking at the advantages of a high-speed, multi-slice CT scanner in June 1999, said Dingmann, and it arrived in May 2000. Since then, with the state-of-the-art CT scanner, revenue in the radiology department has doubled, from just under $500,000 in 1999 to over $1.1 million in 2002.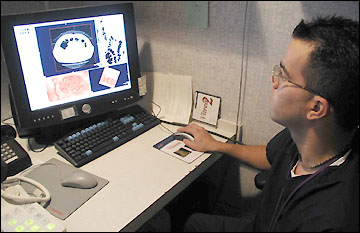 Virtual colonoscopies were one of three new procedures identified at that time (along with cardiac scoring and CT angiography, which are already being done), but a 30-patient study at that time was not favorable for virtual colonoscopies.
CT specialist Troy Mansell uses this computer to combine the 600 images from a 25-second CT scan and create a digital image of the colon, which PAHCS is using as a screening tool.
Since then, though, the CT scanner has gotten hardware and software upgrades that allow it to produce even greater detail, the radiologists have identified three doctors to study the computer re-creations, and a barium drink has reduced the number of false positives - thus reducing the need to do regular colonoscopies as a follow-up.
The CT scanner takes 600 images in 25 seconds, then another 600 images in another 25 seconds. The computer uses all this information to create a digital 3-D picture of the interior of the colon. "This cuts you up like a loaf of bread," explained Mansell. "Then (the computer) puts the loaf back together again."
The technology of the virtual colonoscopy, which can show its results on a computer screen, makes it easier to do a regular colonoscopy. First, it identifies the exact spot of the problem, making it easier for the doctor to find the area with the scope. Second, it shows the patient exactly what is wrong.
"We can show them the polyp on the screen," said Mansell. "If you can show them something growing on their colon wall, they're much more likely to have a colonoscopy to get it removed. It eases the doubt of: maybe it's not anything."
"A picture is worth a thousand words," added Dingmann.
Once this recent female patient saw her colon, thanks to the virtual colonoscopy, she understood why the colonoscopy failed: her colon had a severe twist. "I knew instantly what the problem was. I could see it right on the CT screen," she said.
She trusts the virtual colonoscopy result and plans to continue to use it as a screening tool. Even if it finds something irregular, she is confident that any future colonoscopic procedures will be much easier, since the virtual colonoscopy should identify the location of the trouble.
Also, because her virtual colonoscopy was needed following an incomplete colonoscopy, it should be covered by insurance.
Right now, patients wanting to have a virtual colonoscopy done must pay $495 up front. PAHCS will submit the bill to insurance to see if it is covered, and then will reimburse the patient for any amount that insurance covers.
As an added bonus, the CT scanner views the entire abdomen, so the test also evaluates other internal regions. In their test study, they discovered a half dozen cysts outside of the colon, said Mansell.
Patients for the virtual colonoscopy need a doctor's recommendation. Indicators for screening include digestive disorders (rectal bleeding or diarrhea), age above 50, family history of colon cancer, etc.
---
Contact the author at editor@paynesvillepress.com • Return to News Menu
Home | Marketplace | Community
---