Police pursuit results in death of Spicer man
This article submitted by Linda Stelling on 10/21/97.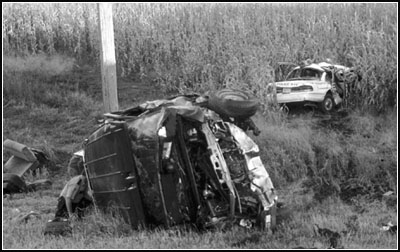 What started out as a peaceful evening to watch their 17-year-son play football in St. Cloud turned into tragedy for a Spicer couple. A well-known DNR officer, Gary Westby, 51, Spicer, was killed in a two-car accident and three other people were injured on Wednesday, Oct. 15, after his 1990 Chevrolet van collided with a Paynesville Police car. The police car was in pursuit of a vehicle driven by John Carl Anderson, 35, Paynesville.
Westby was pronounced dead at the scene. Passengers in the van were his wife, Cynthia Ann, 43, and a friend Michael Erickson, 38, New London. They, along with Schmitz, were transported to the Paynesville Area Hospital. Schmitz and Westby were treated and released while Erickson was transferred to Rice Memorial Hospital, Willmar.
According to court documents, the incident started as a routine traffic stop as Paynesville Police Officer Joe Schmitz sighted Anderson driving on Highway 23 near D&D Car Wash in Paynesville. Schmitz was aware Anderson was driving after revocation of his driverís license. Schmitz paced Andersonís Chevy El Camino, doing 50 miles per hour in a 30 mph zone and activated his red lights and sirens in an effort to stop him on East Main Street.
Anderson accelerated at a high rate of speed, according to court documents, leaving the city of Paynesville and entering Kandiyohi County on the Cemetery Road. Anderson lost control of his El Camino while driving at high speeds on a gravel road and came to a stop near the Mike Flandersí residence. Schmitz ordered him out of the vehicle, but Anderson backed his vehicle up the road 150 feet and into the Flandersí driveway. Again, Schmitz ordered him out of his vehicle. Anderson maneuvered his vehicle and indicated to Schmitz to ďgo ahead and shoot,Ē then veered his vehicle towards Schmitz. Schmitz tried to reach into the car to pull Anderson from the vehicle. Schmitz bumped his arm against the door post, losing his firearm inside the El Camino as Anderson began to speed away a second time.
Schmitz continued the pursuit of Anderson with his lights and sirens activated southbound on Roseville Road Northeast.
Officer Schmitz stated in the court document he slowed to cross Highway 23, looking both to the east and west, before attempting to cross. While in the intersection, his patrol car was struck broadside by a 1990 Chevrolet van driven by Westby, .
The Kandiyohi County Sheriffís deputies found Anderson in the grove of trees at his residence at 22050 190th St. NE, Paynesville, about two miles southwest of the accident scene. Since the vehicle was not in plain sight, a search warrant was obtained and the vehicle and Schmitzís gun were later found.
Stearns County Sheriff Jim Kostreba said alcohol was involved. A breath test indicated an alcohol concentration level of over .10. Officers found empty beer and wine cooler bottles in the back of Andersonís vehicle. A blood alcohol test was drawn from Anderson at the Paynesville Area Hospital and sent to the BCA. Results of the blood tests will not known for 10 to 14 days.
In his first court appearance, on Oct. 17, Anderson was charged with manslaughter in the second degree, criminal vehicular homicide and fleeing a peace officer in a motor vehicle. Judge Elizabeth Hayden set bail at $100,000. Each charge carries a maximum of 10 years imprisonment and/or $20,000 fine.
He will make his second court appearance at 1:30 p.m. on Monday, Oct. 27, in Stearns County District Court. He is being held in the Stearns County Jail.
ďIf it hadnít been for the air bags, the outcome would have been different for Joe,Ē Paynesville Police Chief Tony Schmitt said. Schmitz is on administrative leave from the Paynesville Police Department until a doctor can give him a clean bill of health both physically and emotionally.
Schmitt justified Schmitz drawing his gun by saying, ďAnytime you have a guy in front of you with a car and you fear for your safety, an officer can draw his gun in an attempt to stop the vehicle.Ē
An investigation by the Stearns County Sheriffís Department is under way to determine whether Joe Schmitz, a Paynesville Police Officer, was justified in pursuing Anderson. According to Schmitt, such an investigation is standard police procedure after a death results from a chase. ďAt this time, there is no indication Schmitz did anything wrong,Ē Schmitt said.
ďAnytime an officerís gun is involved, it changes the dynamics of a chase. The loss of the gun made it a higher priority to get that vehicle stopped and retrieve the gun,Ē Kostreba added.
Schmitz has worked for the Paynesville Police Department since 1994.
Police pursuit policy
Paynesville Police Department pursuit policy states: pursuit driving is the operation of a police vehicle as required for the apprehension of a law violator who is an occupant of a moving vehicle and who is attempting to flee the scene in the hope of avoiding arrest. It may be justified in certain circumstances, as in the apprehension of a driver whose operation of his vehicle endangers the lives of fellow motorists, pedestrians or other persons.
At no time shall officers drive at a speed that is not reasonable and prudent under the existing conditions. Officers shall continuously weigh the present danger to themselves and to the general public by considering such things as the weather conditions, likelihood of damage to police vehicles and other property, the seriousness of the crime, traffic congestion, and the possiblity of identifying the suspect at a later time, and other related factors when determining whether or not to continue the pursuit.
---