What is the meaning of Homecoming?

That's what principal John Janotta asked the student council after the recent week of festivities at Paynesville Area High School. No one knew.

Janotta met with the student council after Homecoming recently, and none of the members could identify the reason for the celebration, he told the school board last week. As the name states, the idea is that the school should welcome back its graduates for a visit, a homecoming for them.

That the meaning of Homecoming has been lost bothers Janotta, he said. But not as much as the lack of respect for others and the anger displayed between students, he told the school board, in urging the board to approve measures to insure a safe Homecoming in 2005.

"My summary of the week is that it is probably the worst we've had," said Janotta, "and we've had some bad ones."

This year, the following events were reported d to Janotta: vandalism to vehicles, including broken antennas and smeared with vaseline; vandalism to homes, including eggings and obscene graffiti; a dog intentionally injured during an episode of toilet papering; adults sending mixed messages by driving students; and animals (a chicken and a turkey) released in the school. Board chairman Pat Flanders said it would just be a quick fix to cancel Homecoming. And since the problem was created over several years, it will not be solved completely in one year either, he added.

Janotta agreed that Homecoming does have positive aspects that merit its continuation, or else he would have recommended its elimination years ago, he said. But the actions this year, especially coming on the heels of the school shooting at Rocori and the school's efforts to talk about respect for others and the need to resolve disputes nonviolently, really struck Janotta.

"I've never seen so many students angry with each other," Janotta said. One girl came to him after finding her car vandalized, and he said it worried him what she - or others like her - might have done had they known the identity of the culprits.

Parents need to help monitor their students, the board and administration agreed, since much of the unacceptable student behavior occurred off school grounds and outside school hours. How much was done by students and by outside elements (recent graduates, etc.) is also unknown.

While toilet papering has been considered harmless fun, the rash of more serious vandalism this year makes it necessary to stop even that, Janotta urged the board. "I believe it starts with toilet papering and a lack of respect that goes too far," he said.

The school has the authority, as listed in the student handbook, to discipline students for behavior off campus, said Janotta. So, for instance, students could be disciplined for behavior at away sporting events...or for toilet papering.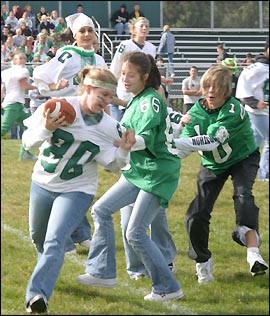 Janotta recommended that the school ban toilet papering during Homecoming and make the penalty suspension from school and from sports. This would be a strong stance, he said, but is needed.
The Paynesville Police Department confiscated around 600 rolls of toilet paper this year, which they have been donating to charity, according to police chief Kent Kortlever.
In the past, the department has taken a mild approach to toilet papering, since it does not do any lasting damage, said Kortlever, but in the future the department may try to press for charges in cases where homeowners complain.
While school officials discussed the need for stricter penalties to avoid vandalism during Homecoming, school board members also noted a need for more scheduled activities, like the annual Powder Puff game.
This year, the department saw an increase in more damaging acts of vandalism, said Kortlever, including paint balls, eggs, baby oil, vaseline, and lipstick. Police are also concerned about dangerous pursuits in vehicles, said Kortlever.
Student groups can have a "mob mentality," said Janotta, which may lead students to do things with their peers that they might not do on their own.
Board member Tami Stanger said that she had a hard time deciding who the Bulldogs were playing on Friday night amidst the junior-senior rivalry. But, she said, "I don't think the answer is to scrap Homecoming."
"The kids don't know what the purpose of Homecoming is," said Stanger. The school district needs to educate students about the true meaning and get parents to volunteer to monitor that it is celebrated for the right reasons or the district should not have it. She urged that Homecoming be conditional based on students and parents accepting that responsibility.
Without that, she said, it becomes a party without a purpose.
The school district "needs to be proactive, not just reactive," said board member Deb Glenz, who agreed with Stanger that the school needed to offer more organized activities to keep the students occupied during Homecoming week.
Several board members reminisced about their Homecoming memories, including making floats and holding parades. But Janotta said that traditions are created very fast in high schools, where the student body only remembers the past couple years. Right now, the tradition includes toilet papering.
And that tradition seems to be passing to younger and younger kids, Janotta added.
High school teacher Michelle Andersen told the board that Janotta handled the events during Homecoming very well, addressing the student body after each incident and getting students to speak to their peers over the intercom. The week was extremely tense, she added, with students and staff hearing about things they did not want to happen but being powerless to stop them.
One positive, said Janotta, is that some students recognize that things went too far this year and want to be part of the solution. "I think, for the first time, I see students who are appalled," he said.
Janotta said the week is not a good representation of the student body and is not good public relations with the community. Something needs to be done before a really serious incident occurs, he added.
The board took no official action but agreed that a two-pronged approached - stronger discipline and more activities - is needed next year.
---
Contact the author at editor@paynesvillepress.com • Return to News Menu
Home | Marketplace | Community
---