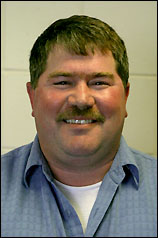 Elementary principal Todd Burlingame was selected by the school board last week to become the next superintendent at the Paynesville Area Public Schools, pending contract negotiations.

Current superintendent Howard Caldwell, who has served the district since 1989, is retiring in June 2004. Burlingame will become the new superintendent after Caldwell's retirement.

Hiring Burlingame as the next superintendent was recommended to the entire school board by a board committee established this summer to lead the search for a new superintendent. Board members Mark Dingmann, Deb Glenz, and Allen Schmidt worked on the search committee, which started by looking at internal candidates.

The committee met with Burlingame two times and recommended to the full board that he be hired as superintendent. Committee cited Burlingame's familiarity with the local school district, his standing in the community, and their comfort level with him. "We understand that this will be a new position for Todd," said Glenz, "and we felt comfortable with him."

The board voted unanimously to hire Burlingame, pending an agreement on a new contract.

"I'm excited about it," Burlingame said of becoming superintendent. "There are a lot of challenges. These first couple years are going to be critical."

Small, rural school districts face challenges like declining enrollment, stagnant funding, and more testing requirements, and funding mandates, said Burlingame.

There is "lots of pressure on public schools to produce results and it all starts in the classroom," he explained. "The stakes keep getting higher," he added of the pressure on schools. "If you're not performing, there are consequences."

In addition to the professionals working in the schools, Burlingame said meeting these challenges will take parental involvement and community effort. "We need to do everything we can to keep this district viable," he said.

Burlingame, a native of Canby, graduated from Southwest State University in Marshall in 1990 and taught in South Dakota and at Starbuck for seven years. He completed his elementary principal certification from SCSU in 1997 and became the principal at a fourth to sixth grade school in Virginia, Minn. He worked in Virginia for two years before being hired as the principal at PAES in 1999.

This is his fifth year working in the local school district. "When we came here, we wanted a place to call home," said Burlingame, who has two daughters with his wife, Mary. "We like it here, and I want to make a difference for the Paynesville Public Schools."

He said he is already comfortable with the elementary school, but must learn about other parts of the school operation: the middle school, the high school, overall finances, and other issues.

"One nice thing is that I have from now until June to be down in the district office and work with Howard and the district office staff in preparing the budget," he said. Caldwell has a wealth of knowledge to tap, added Burlingame. Burlingame has already worked closely with Caldwell. When he got his superintendent's license in 2002, Burlingame did his internship under Caldwell.

Caldwell has served as superintendent in Paynesville since July 1989, when he came to Paynesville from Norwood. He had previously been the superintendent in the Butterfield-Odin School District.

Caldwell - who attended Danube High School, earned his undergraduate degree from St. Cloud State, and earned a master's degree and his superintendent certification from Mankato State - started his education career in 1969, teaching math and science. In 35 years since then, he has been a teacher, principal, and superintendent in a half dozen communities in Minnesota.
---
Contact the author at editor@paynesvillepress.com • Return to News Menu
Home | Marketplace | Community
---