Tuck's Cafe has new owners
This article submitted by Linda Stelling on 10/20/99.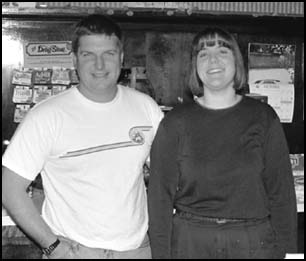 Tony Kotten and Joyce Kascht (pictured at right) are the new owners of Tuck's Cafe in downtown Paynesville. The couple took over ownership on Oct. 1.

"Our goal is to provide good homemade food, not fast food for the customer," Kotten said. "We want to get to know our customers so we can better serve their needs."

They have extended the hours of Tuck's. The cafe will be open from 6 a.m. to 8 p.m. Tuesday through Sunday and closed on Mondays. "We welcome the early morning coffee crowd and dice shakers," Kotten said.

"Helping us learn the ropes are Donna Bauer, Loretta Thomes, and Kathy Block," Kotten added.

Kotten purchased the cafe from Bob and Donna Bauer. Bauers owned and operated the cafe for 23 years.

Tuck's Cafe was first opened in Paynesville in the late 1920s by Lou and Gerald Tucker.

Kascht is a 1999 graduate of the hotel/restaurant program at Alexandria Technical College. She did her internship at the Best Western Kelly Inn in St. Cloud. Kascht also worked at the Country Inn in Paynesville during high school and the A&W Restaurant in Alexandria while in college.

Kotten also owns Regal Starter and Generator. When not working at his shop in Regal, Kotten will be helping out at Tuck's.
---