Hunting accident occurs near Lake Koronis
This article submitted by Michael Jacobson on 10/20/99.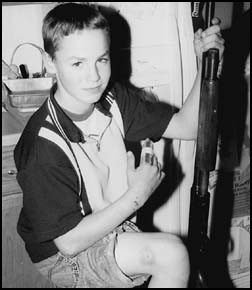 On Sunday of the duck hunting opener, Chris Hoffman (pictured at left) and Quinn Knisley were both looking at a flock of circling ducks when it happened. A shot came from behind them, across the river, and Hoffman immediately sung out in pain. "Ow," he screamed. "You shot me."

Knisley felt a sting on his shoulder, and checked it, but found no blood. Sitting beside him, his dog, Clara, a labrador and collie mix, wasn't as lucky. Maybe a dozen pellets pierced the dog's coat and skin. "She got hit," recalled Knisley, "and I heard her yelp. She jumped into the bushes and ran home."

The accident is a reminder to hunters of the need to stay alert to safety during the hunting seasons this fall. "Everybody has to be safe," said the man from Hugo, Minn., who fired the shot that accidently hit the boys. "That's the first rule of hunting."

"It was a terrible accident," added the 36-year-old. "I've been hunting for 20 years. Taken umpteen firearms safety classes. It was tragic."

The accident
Hoffman and Knisley spent the early part of that Sunday morning hunting on Hoffman's parents' farm. Both are 13-years-old and need to have adult supervision to hunt legally, in addition to Firearm Safety Certificates, which they both have.

Around 10 a.m., they were dropped off at Knisley's house and headed on foot to the west end of Lake Koronis, where they said they had called the landowner and received permission to hunt.

When they arrived at the stream, they met another hunter trying to retrieve a duck. His group of three, including the Hugo man, were hunting on their land on the other side of the stream. After the dog found the missing duck, the boys and the hunter introduced themselves and agreed that it wasn't a good idea to hunt in close proximity.

Discrepancies in their accounts of events after this may be the result miscommunication. An investigation by the Paynesville Police Department is still being conducted.

The boys thought they told the other hunters that they were going to walk east along the stream and hunt closer to the lake.

The Hugo man, who was hunting with his father-in-law and brother-in-law, said his group watched the boys walk south the way they had come. "We all saw them leave," he said. "In fact they were gone for 10 minutes."

According to the Hugo hunter, his brother-in-law, in returning from the other side, went 50 yards up the creek to retrieve another duck they had shot. His brother-in-law saw a flock of ducks heading down the river, east towards the lake, and on a path to pass his relatives. So he called out to them to get down.

The Hugo man said he couldn't shoot upriver because of his brother-in-law in the canoe and he didn't shoot in the direction the boys had left. He waited until the ducks had passed down river before firing at the ducks, which he estimated to be 10 to 15 feet in the air.

The boys said they hadn't gotten very far when they heard the man shout that ducks were coming. Knisley said they had taken 10 steps, and Hoffman estimated that they had moved 20 feet when they heard the warning, which they thought was directed at them. They crouched in a patch of beaten down weeds. They said they were both looking up in the air to the south at a flock of ducks that were still circling when the shot was fired behind them.

"If I can see them, then they should be able to see me," stated Hoffman, who said he could see the other hunting party when he stood up after being shot.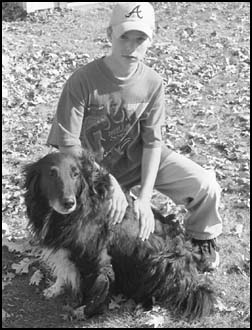 The injuries
The men brought Hoffman over to their side of the stream in their canoe and transported him to the Paynesville Area Hospital for treatment.
Hoffman, the son of Becky and David Christianson, had been grazed by four pellets and had two pellets penetrate his skin. Two nicked the back of his head, one his wrist, and one his right leg. Three pellets also left marks on the stock of his shotgun.
One pellet entered his right pointer finger with enough force to break his finger. Another shot lodged in his right wrist, so deeply that it was found only with an x-ray.
Hoffman spent two and a half hours in the emergency room. He did miss a day of school the next week, but only because he had the flu, not because of his injuries.
His mother described herself as "shocked and confused" at the hospital. "The nurses are pulling his clothes off and there's blood all over and I'm like, 'Oh, my God!'" said Christianson.
"Luckily, thank God," said the Hugo hunter, "he was not injured very seriously."
Meanwhile, Knisley ( pictured at right with his injured dog), the son of Jerry and Deb Knisley, had walked home and called Hoffman's parents. Clara, the dog, was lying flat on the sidewalk.
"I thought she died," said Knisley's father, who brought the dog to the veterinarian when he got home from work later in the afternoon. "I never thought she'd make it." The dog had about a dozen pellets in her left side. The vet took an x-ray to look for internal bleeding, gave the dog antibiotics, and kept her overnight.
The pellets were left in her side, and the Knisleys were told that Clara was fortunate the pellets were steel. Had they been made of lead, as was common in the past, she might have died from lead poisoning. This benefit of steel is why lead shot can no longer be used legally for waterfowl.
Clara was right next to Knisley when she was hit, and both the boys agreed that if the dog hadn't blocked the pellets he would have been hurt far more seriously, probably worse than Hoffman. "It's scary," said his dad, pondering what could have happened to his son.
"I'd call it pure luck that I didn't get hurt," said Knisley. Clara is doing fine, too.
Lessons
"Don't shoot anything," warns the Hugo hunter, reciting one of the first rules of hunting. "Unless you know what it is."
He already has recounted his thought process before pulling the trigger. He said he thought he was pointing his gun away from the boys.
"Irregardless of how far away you are," said David Christianson, "you've got to be pointing at the guy."
Both boys have experience hunting ducks, pheasant and deer, but at 13, by law, they need to be with a parent or legal guardian to hunt. Christianson and the boys said he was planning to hunt with them, but came down with the flu. While he didn't think the boys did anything wrong, he said that his presence might have altered events somehow.
The Hugo man said communication is very important. Both sides agreed not to hunt near each other, but unfortunately an accident happened before they were separated sufficiently.
He added that it's important to move to your hunting position safely. When the boys first came to the creek, he said they were surprised. He suggested being vocal, making noise, and wearing blaze orange while approaching your duck blind.
"You've always got to be careful," he warned.
Safety tips
Local Department of Natural Resources (DNR) officer Chuck Nelson agreed that wearing blaze orange is a good safety procedure, but noted that it is not required until deer hunting season begins. Then duck hunters are required to wear blaze orange on their upper half while walking to and from their duck blind.
Pheasant hunters are required to wear at least one article of blaze orange clothing, and Nelson said that compliance for last week's opener was the best he had ever seen.
Nelson said he has received a number of complaints from lake shore property owners about pellets landing on their roofs. As far as he knew, they haven't done damage, but indicated some careless shooting. "You've always got to know where the bullets are going,"Ęsaid Nelson, "what's behind where you're shooting."
Hunting fatalities have decreased significantly in recent years, according to Nelson. Thirty years ago, he said, you might have 10 fatalities in a year. Last year, there weren't any in the state to his knowledge. So far this year, a bear hunter has fallen out of a tree stand and died, and a man was killed by another member of his hunting party in a firearms accident.
Nelson expressed the greatest concern for deer hunting. "When hunting in a group, you've got to be careful," he warns. Hunting drives in cornfields, with some hunters standing and others walking, is especially precarious, Nelson felt. He stressed the importance of knowing where the other hunters in your group are. of story
---