Stanley is the new manager at the Paynesville Office of the Melrose Credit Union
This article submitted by Linda Stelling on 10/20/99.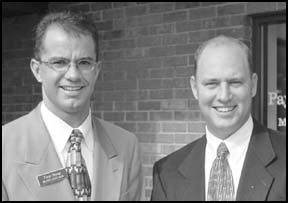 Chris Stanley (far right), Paynesville, was named the new branch manager at the Paynesville Office of the Melrose Credit Union. Troy Stang (left), previous branch manager, has taken a position with Affinity Plus-Federal Credit Union in St. Paul, formerly known as State Capital Credit Union.

Stanley has been with the credit union three years, starting as a teller and then a loan officer. He is a graduate of Paynesville Area High School and South Dakota State University. He has a major in business economics. Stanley also did his internship at the Paynesville Office of the Melrose Credit Union.

"My goals for the position are to keep the office going as smoothly as possible, while expanding the branch to meet the needs of the members. We have had a steady growth and want to keep our members satisfied," Stanley said.

One new service that the credit union will be offering in Paynesville is safe deposit boxes. "We hope to have the boxes installed and ready for use by Dec. 1," Stanley said. "There has been a huge interest from our members for this service."

"An important part of the credit union is its involvement in the school and community," Stanley said. "I look forward to working with the community. It gives me another reason to stay in Paynesville," he added.

Troy Stang had worked for the Melrose Credit Union since 1992 and moved to Paynesville as its manager when the branch opened in 1993.

"I feel it has been a real privilege and pleasure to work in my hometown. I have received personal support and trust from the community and credit union," Stang said. "It has been a great experience to serve my hometown."

An open house will be held on Thursday, Oct. 21, from 8:30 a.m. to 4 p.m., so area residents can bid Stang farewell and welcome Stanley as the new manager.
---