City residents will soon get new garbage carts. "Good neighbor carts," wheeled garbage containers that can be emptied by automated trucks, will be distributed to West Central Sanitation's residential customers in the city next week and will be in use for garbage pick-up on Thursday, Nov. 4.

The new carts will come in three sizes - 35-gallon; 64-gallon; and 95-gallon - and can be serviced once per month, every-other week, or weekly. Cart-size and pick-up frequency will be based on each customer's current service, according to Jeff Bertram of West Central Sanitation. Customers don't need to do anything unless they find that their current level of service isn't enough.

Choosing the appropriate cart size and pick-up frequency is very important, according to Bertram. In the past, West Central Sanitation was lenient about picking up extra bags of trash, but in the future, the company will charge $2.50 for each bag of garbage left out in addition to the cart.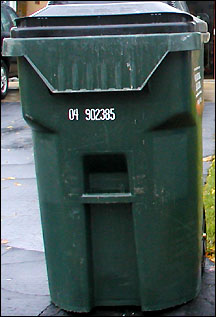 "If you frequently set out extra bags beside your cans, you may need a higher level of service," wrote Bertram in a letter to customers.
New trash carts, like the one shown here, will be distributed to residential garbage customers in the city next week. The carts will be used starting Thursday, Nov. 4.
The new carts will be distributed on Thursday, Oct. 28, and Friday, Oct. 29. West Central Sanitation will expect residents to use them for garbage pick-up on Thursday, Nov. 4. Service prices will vary only slightly, according to Bertram, and in most cases will be lower. A 35-gallon good neighbor cart serviced monthly will cost $7.90 per month, an increase of 20¢; a 35-gallon cart serviced every-other week will cost $10.15 per month, the same as the previous price; a 35-gallon cart serviced weekly will cost $14.20, a savings of 20¢; a 64-gallon cart serviced weekly will cost $17.00, a savings of $2; and a 95-gallon cart serviced weekly will cost $19.20, a savings of $3.80.
While pick-up days will still be the same - residential carts need to be out by 6 a.m. on Thursday mornings - how the carts should be placed will be different.
When the carts are delivered, they will be placed in the correct position for pick-ups. The carts must be at the end of the driveway facing the street. They must be placed at least three feet from anything, including mailboxes, cars, and lawn decorations. Recycling bins must also be at least three feet from the cart. This is important for allowing the truck, which uses forks to pick up the cart, to get close enough.
Pick-up routes will be a little different, according to Bertram. The West Central Sanitation truck will pick up garbage along one side of several streets before returning for the opposite side. Customers shouldn't be concerned when it takes a while for the truck to return after emptying the across-the-street carts, said Bertram.
The carts will be owned by West Central Sanitation, so the campany will repair or replace any damaged or worn carts. Customers will be charged for lost or stolen carts.
The new carts will benefit everyone, according to Bertram. The community will benefit because the new carts are secure and easy to move, he said. The carts are made of heavyweight green plastic and have fitted, hinged lids. The size and weight of the carts make them resistant to the wind and the lids are secure enough to keep animals out and odors in, he said. The wheels are positioned in a way that makes the carts easy to maneuver.
Because loose trash can blow around when the carts are emptied, Bertram recommended that trash be bagged before placing it in the cart. Plastic bags, however, aren't necessary because the carts are so secure. Bertram places his own trash in heavy paper feed sacks before it goes into the cart.
West Central Sanitation also benefits from the new carts. With the new automated system, drivers won't need to leave their vehicles nor to lift garbage cans. This results in fewer employee injuries and increases efficiency, owner Don Williamson told the Paynesville City Council in August.
In Paynesville, West Central Sanitation services nearly 730 residential customers. Over a period of time, leaving and re-entering the truck and emptying each customer's cans can be hard on employees' hips and knees, Bertram pointed out.
Because West Central Sanitation is under contract with the city of Paynesville to provide residential garbage service, the city needed to approve the switch to good neighbor carts before the company could start using them in the city.
Residents outside the city, including those in Paynesville Township, however, have no such restrictions and can request a cart at any time, said Bertram. In fact, new customers outside of the city limits are automatically given a cart unless they specify otherwise.
Commercial customers in the city have the option of using dumpsters, cans, or carts. Commercial customers can request good neighbor carts by calling West Central Sanitation at 1-800-246-7630.
---
Contact the author at editor@paynesvillepress.com • Return to News Menu
Home | Marketplace | Community
---