Nearly $1.4 million could be available for certain city residents and business owners if the city of Paynesville is successful in acquiring a grant from the Small Cities Devolopment Program.

The Paynesville City Council approved applying for the grant again at their meeting last week, following a brief public hearing.

Last spring, Paynesville ranked 22nd out of 50 grant applicants. The top 16 received state funds.

Paul Olson, a consultant from DSI, which prepared this year's and last year's grant application for the city, recommended reapplying since Paynesville was so close last year.

The city is requesting $1.275 million in the grant, to be augmented by $0.132 million in loans from the Economic Development Authority of Paynesville, to target 27 commercial buildings in the downtown area ($720,000), 24 owner-occupied residences ($500,000), and 13 rental properties for rehabilitation projects ($140,000).

For the grant, the city has targeted the downtown area as well as residential areas surrounding Highway 23 in the city.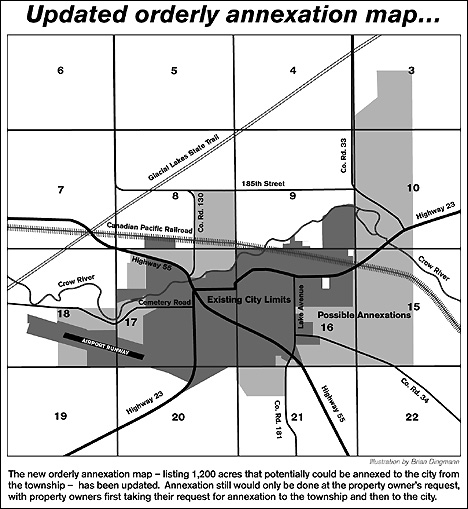 For businesses and housing, eligible projects would include: roof repair; windows and doors; insulation; structural repairs (walls, floors, and foundations); painting, siding, and exterior appearance; unsafe electrical wiring; inadequate electrical service; and replacing old or inefficient heating systems. Additions, carpeting, kitchen cabinets, appliances, and air conditioning would not be eligible for residences, and additions, loading docks, display shelves, and new bathrooms (unless needed for handicap accessibility) would not be included for businesses.
The money would be available either as deferred loans (grants) or repayable loans (at a low interest rate). There are no eligibility guidelines for businesses, which would likely have funds available as repayable loans.
Residential property owners would face income guidelines to participate in the grant program. These eligibility guidelines for last year, which would likely increase by $800 to $1,000 in 2006, according to Olson, were: one-person household, $34,000; two-person household, $38,850; three-person household, $43,700; four-person household, $48,550; five-person household, $52,450; six-person household, $56,350; seven-person household, $60,200; eight-person household and above, $64,100.
The grant application deadline is Nov. 1, 2005. The city should learn if it was successful in receiving the grant this year by next spring.
---
Contact the author at editor@paynesvillepress.com • Return to News Menu
Home | Marketplace | Community
---