Last Wednesday, police officer Ron Reier spoke to middle school and high school students in the school auditorium about his experience with the Minneapolis Police Department, as a speaker sponsored by the Paynesville Human Rights Commission.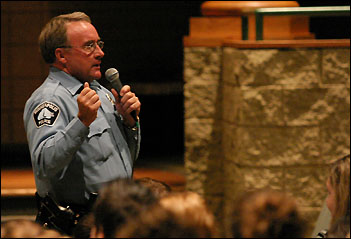 American freedoms are protected with law enforcement, he said, as well as advising the youth on how to remain safe.
Reier gave two 45-minute forums to the middle school and high school students, as well as speaking at a noon luncheon of the Human Rights Commission, attended by 50 people.
Minneapolis Police Officer Ron Reier spoke to middle and high school students last week about human rights, as well as to a noon luncheon of the Paynesville Human Rights Commission.
The assembly began with an introduction by Bill Ryan of the Paynesville Human Rights Commission: "As you listen to Officer Reier, think about how you have it made out here in central Minnesota."
"This is your golden opportunity to get into a cop's face," Reier said to the students, producing laughter and rapport. He said his goal for the visit was to be educational, fun, and informative.
Middle school students asked Reier about diversity, homicide in Minnepolis, and pepper spray. High school students inquired about law enforcement's use of guns, tazers, and self-defense tools; drug charges; and reasonable investigations and siezes.
Reier explained the tools on his belt to the students and reccommended self-defense tools as alternatives to guns, reasoning, "We use these things to protect your rights."
Reier asked the students if they have heard the pop-culture term, "hater," describing someone with negative feelings toward another's success. He continued, "I hate guns. I hate drugs. I hate gangs. I firmly believe that if we eliminated guns from our society, drugs and gangs would go away. ...Stay away from guns. Stay away from drugs. Stay away from gangs."
One gunshot could detach a human hand from the body, said Reier, as an example of "how powerful one stupid little bullet is."
Reier said of guns and the bullets that travel about four blocks per second, "These things are tremendously dangerous. They should be in the hands of nobody, but there are far to many people; they're picking up guns, they're shooting people, and they're killing people. Stay away from guns."
Reier asked students by a show of hands if they had heard of Rodney King, the motorist who received national attention upon being arrested and beaten in Los Angeles in 1991. King did not comply with the police officers who pulled him over for speeding, said Reier, all of which was captured on videotape and presented to the jury that later aquitted the LAPD officers charged with racially-motivated assault.
Reier, who said he most often uses handcuffs as an alternative to his nine-millemeter gun, said, "We are not taking rights away from people. We are protecting people."
He added, "I don't want an unreasonable person to have access to my gun if they're doing something unreasonable in the first place."
"I pray continuously that I will never have to shoot someone," said Reier, who has not used his gun on the job. Reier has worked for the Brooklyn Park Police Department and with the Minneapolis Police Department for 12 years. He currently works for the Minnepolis Parks Department and appears on WCCO Radio on Tuesday mornings for their "Ask the Cop" show.
Reier, who is the father of Sharon Bergman of Paynesville, said the range of diversity is one difference between Paynesville and Minneapolis. "If I were talking to a middle school in Minneapolis right now, 72 percent would be minorities."
Reier showed photos of what he called "garbage houses," houses so occupied by clutter that law enforcement needed to gain possession. He defined these violations as, "when your right to live in that house goes against the rights of these people who are your neighbors."
This year, Reier said Minneapolis had recorded 51 murders to date and receives approximately 400,000 9-1-1 calls each year, compared to about 1,200 cases so far for the Paynesville Police Department. "Paynesville is a safe place," he added. "You need to concentrate on ways to protect people's rights and to keep Paynesville a safe place."
---
Contact the author at editor@paynesvillepress.com • Return to News Menu
Home | Marketplace | Community
---