Last Wednesday (Oct. 11), a new ownership group acquired Laubach Chevrolet-Buick Inc. They have renamed the Highway 55 car dealership as Koronis Motors.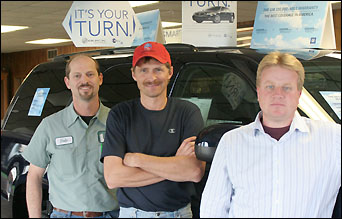 Purchasing the business from Percy and Ron Laubach were Dave Voss, Brian Nietfeld, and Dale Klein of Paynesville as well as Voss' brothers Chris and Joseph Voss, who live in Seattle and San Francisco respectively.
Dale Klein (left), Brian Nietfeld (middle), and Dave Voss (right) are three of the five new owners of Laubach Chevrolet-Buick, along with Voss' brothers Chris and Joseph. The car dealership - located on Highway 55 east of Paynesville - has been renamed Koronis Motors.
Nietfeld, who will serve as the general manager for the business, has 23 years of experience in vehicle repairs and 21 years of experience in vehicle sales. He has a few more cars to restore at Koronis Restoration and then he will be concentrating solely on his work at Koronis Motors.
Dave Voss also has been a dealer of heavy- and medium-duty trucks and over-the-road semis for 14 years. Adding a line of medium- and heavy-duty trucks is one thing the new ownership group wants to bring to Koronis Motors. They also want to add program cars (low mileage used cars) and use web-based sales at the dealership.
Their goal is to make Koronis Motors into a regional dealership. "We want to turn this into a destination for vehicles," said Dave Voss, speaking not only of Koronis Motors but of Paynesville.
They believe becoming a regional dealership "is going to be an exceptional asset to the other dealers (in Paynesville)," added Klein.
To turn the business into a regional dealership, they plan to gradually increase inventory, including heavy- and medium-duty trucks and program cars, as well as to remodel the showroom and office (room by room) over the next year. They also want to double the amount of service work they do in the shop.
"Too many people have moved away from Paynesville to buy their car. We need to keep them here," said Dave Voss.
The new name, Koronis, is meant to do double duty. On a regional level, the name signifies Paynesville, while on the local level it means the car dealership towards Lake Koronis.
Joseph Voss, a 1979 PHS grad, came up with the new name for the business. "It certainly is a recognized name in our area and in the region," said Joseph, who is in computer software sales as is his brother Chris.
They are excited to be part owners in a business in their hometown, added Joseph, and will be participating in weekly meetings with their partners, as well as consulting with their dad, Joe Voss, about his business expertise.
Nietfeld, who will be handling the day-to-day activities at the business, said he has a lot to learn about working with a General Motors dealership - handling paperwork, promoting weekly incentives, ordering, selling, etc. He plans to attend GM schooling for dealership management.
The business currently has nine employees, with more expected to be hired. Among the carryover employees are Danny King with 21 years of experience in sales; Percy Laubach as office manager; and Lindsay Jones in the shop. Among the new employees is Todd Lokken, formerly of Richmond, who will be another salesman.
Al Laubach purchased Hoeppner Chevrolet in 1952, bought the local Buick dealership in 1970, and sold the business to his sons Ron and Bob Laubach and retired in 1971. Ron and Bob Laubach moved the business from downtown Paynes-ville to its current location on Highway 55 east of town in 1974.
The Hoeppner brothers came to town in 1919 and purchased the Chevy dealership in town in 1939.
---
Contact the author at editor@paynesvillepress.com • Return to News Menu
Home | Marketplace | Community
---