Building a Habitat for Humanity house in Paynesville took another step recently with the agreement to purchase a lot in town.

Sue and Joe Voss of Paynesville have agreed to sell a lot for the Habitat for Humanity project in Paynesville. Joe said the couple knew Habitat for Humanity was looking for a lot and decided to offer their bare lot on Coakley Street, in a new development next to the Chladek Addition, since they no longer had plans to use it.

They had thought about building on the lot, added Sue, but then decided to stay in their current home. The lot has a great location near the secondary school as well as to "killer hill," a popular sledding spot on the #2 tee of the golf course.

The Vosses sold the lot to Habitat for Humanity for $1,000 less than they paid for it 18 months ago.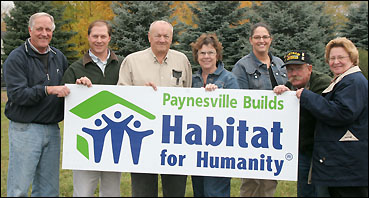 A tentative agreement on the lot was reached at the task force's monthly meeting on Tuesday, Oct. 3. (The local task force meets on the first Tuesday of the month at the Paynesville Area Center at 7 p.m.)
"It's a start," said Sue Voss of their motivation to support Habitat for Humanity.
"It's a very nice start," added task force member Bill Ryan.
The local Habitat for Humanity task force has found a lot to build a Habitat for Humanity house in Paynesville. Pictured are: task force chairman Allen Anderson, task force member Pastor Jeff Bergman, lot sellers Joe and Sue Voss, VISTA/church relations coordinator Dayna Adams of the Central Minnesota Habitat for Humanity, task force member Bill Ryan, and family selection chair Pat Ryan.
The local Habitat for Humanity task force has been looking for a suitable lot since last spring. Finding a lot "is one of the prerequisites to stay on track for this project," said Allen Anderson, chairman of the local task force.
"That's your #1 step in trying to build a Habitat home," said Dayna Adams, VISTA/church relations coordinator for Central Minnesota Habitat for Humanity, which builds houses in Stearns, Benton, and Sherburne counties.
Central Minnesota Habitat for Humanity, which supports the local task force by providing its tax-exempt status and expertise, will actually be purchasing the lot. It will own the new home when built in Paynesville and will sell it to the new homeowners.
Finding a lot - having a physical place - gives immediacy to the project, said Anderson. Soon, design and construction can start in earnest, he added. "All those things tend to take shape once you get a lot. So we're really at a turning point for this project. Finding a lot is a real linchpin to the project."
Three Paynesville area families are currently being considered as candidates for the house by the selection committee. Criteria for the family include need (financial criteria and current living space); the ability to repay; and willingness to partner in the project, since adults in the family need to provide a number of equity hours to the project (actual construction, volunteering for Habitat for Humanity, or other volunteer work).
A decision on family selection is expected in December.
Once the family has been selected, design of the new home will take place, with the family getting input into the process. Since the lot is flat, the basic design is likely to be a three-bedroom rambler with basement, said Anderson.
Once the design is done, the construction budget (currently $117,000) will be better known. With lots of in-kind donations already pledged, Anderson expects lower costs for the project, maybe around $100,000, including the lot purchase.
Central Minnesota Habitat for Humanity is applying right now for four grants from Thrivent, which would cover 70 percent of the costs of a house. The Paynesville project, which would be the first Habitat home in western Stearns County, has been identified as the top priority for Central Minnesota Habitat for Humanity this year.
Last year, Central Minnesota Habitat for Humanity got two grants from Thrivent. Paynesville would get the first grant this year. (The Thrivent grants will be announced in January.)
If Paynesville gets a grant, the project is "virtually a done deal," said Anderson, since the local responsibility would be for the community to raise 20 percent and for Lutheran churches to raise 10 percent. Since the local task force has already raised $20,000, if the project costs $100,000 and a grant is received they would only need to raise another $10,000 to build in 2007.
If the local project does not receive a grant, more fundraising will be needed, which could delay the project from its intended construction in 2007.
People should contribute to the project because they believe in the mission, said Anderson. "Any money that comes from Paynesville, earmarked for Paynesville, will be spent in Paynesville," he added, "unless there is no further project in Paynesville."
That means any surplus in local donations raised locally will go to the next Habitat for Humanity project in Paynesville.
One fundraising campaign, starting on Tuesday, Oct. 17, will be run at the local schools. In the middle and high schools, donations will be accepted for things such as students being allowed to wear a hat during the school day or for teachers to wear jeans for an extra day.
In the elementary school, students will be asked to donate change according to a calendar, which might ask for 25¢ on a certain day if they live under a roof. This is aimed at educating students about their living conditions compared to others who might not be as fortunate, as well as intended to collect money.
Also in October, the local task force is organizing donations from local restaurants. On certain days, part of the proceeds at various local restaurants will go towards Habitat for Humanity.
In November, a concert by the Directors and the String O' Pearls is being planned for Saturday, Nov. 18, at Paynesville Lutheran Church.
The local task force has also asked the city of Paynesville to contribute $10,000 to the project, a request which the council referred to EDAP last week.
The mission of Habitat for Humanity is sharing God's love in a tangible way, said Pastor Jeff Bergman, another task force member. Building a house is just one way to share with those in need, he added, and to invite them into the community
Habitat for Humanity was established as an eucumenical Christian housing ministry. "...I will show you my faith by my works." James 2:18, quotes Central Minnesota Habitat for Humanity on its website.
"It's a great thing when we realize how fortunate we are to live in this country," said Anderson, "and are willing to share that with people who haven't had the same chances." Habitat for Humanity calls itself a hand-up, not a handout.
Central Minnesota Habitat for Humanity will sell the house to the selected family with two mortgages. The first will be a 20-year, interest-free mortgage based on the family's ability to pay (with proceeds going to ongoing Habitat for Humanity operations and projects). The second mortgage will include the additional value of the house, which will be held by Habitat for Humanity (to prevent the house from being sold at an immediate profit by the family) and will be forgiven starting after ten years.
Of the first 37 homes built by Central Minnesota Habitat for Humanity, 36 still had their original families as homeowners in 2006. (By the end of 2006, Central Minnesota Habitat for Humanity will have built 41 houses in all in Benton, Stearns, and Sherburne counties.)
For each home built in Minnesota, said executive director Judy Carmack, Central Minnesota Habitat for Humanity (by tithing unrestricted donations) also builds a home in either Costa Rica or Guatamala. Seven new homes were built in Minnesota, and seven in Central America, in 2006.
The average cost for a home in Costa Rica or Guatamala is $4,500, added Carmack, and if a home is built in Paynesville in 2007, a matching home will be built in Central America.
If fundraising is successful, the project could break ground in the spring of 2007 and the family could move in by the fall. Most of the hands-on work - construction, clean-up during construction, in-kind doations, etc. - will begin next spring if construction proceeds as scheduled.
The local Habitat for Humanity task force includes: Allen and Joyce Anderson; Pastor Jeff Bergman; Diane Dutcher; Jane Frieler; Don Frank; Jerry Haagenson; Pat and Wayne Hansen; Mary Janotta; Renee Kallevig; Leo and Lou Louis; Bob Marciniak; Dave Mutschel-knaus; Marv Niedan; Bill and Pat Ryan; Hank Schollett; Bill and Kay Spooner; Clarice Stumo; Jeff Thompson; Wally Thyen; Hannah Voss; and Steve Whitcomb.
---
Contact the author at editor@paynesvillepress.com • Return to News Menu
Home | Marketplace | Community
---