Middle school announces October Students of the Month
This article submitted by Linda Stelling on 10/18/00.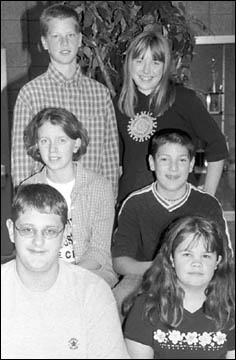 The Paynesville Area Middle School announced the names of the students selected to be honored as Students of the Month for October.

The students are selected by their teachers for their attitude about school, their relationship with their classmates, and how quick they are to volunteer for service.

Selected are: (standing at top of picture) sixth graders, Ben Moser and Erica Geurts; (middle) seventh graders, Meegan Reeck and Trent Hansen; (seated) eighth graders, Brandon Stang and Heather Albrecht.

Erica is the daughter of Coreen and Dennis Geurts. Her teachers state she is a dedicated student and a hard worker. She has a pleasant and friendly personality, and is a great addition to the middle school.

The school activities she enjoys include reading, history, math, music, and science.

Geurts lists volleyball as one of her interests. She also enjoys building forts, riding horses, collecting turtles, and trivia questions.

Geurts was surprised and happy to be awarded this honor. "I feel like I deserved it," she said. "I like my academic abilities and always try to do my best."

Ben Moser is the son of Joe and Roxy Moser. His teachers state he is a great addition to the middle school student body. He is a hard worker, a good student, and well-liked by others.

Moser participates in football, baseball, and basketball. His main interests are sports.

"I'm proud that the teachers picked me," he said. "I think I won the award because I'm nice to people."

Trent is the son of Mel and Bonnie Hansen. His teachers state that he has a pleasant outlook on school, has a conscientious work ethic, and is a strong academic student. Hansen also works well with the other students and is well- liked.

His school activities include football, basketball, and baseball. Hansen's interests include card collecting, sports, and surfing the Internet.

"I feel special and honored to be selected," Hansen said. "I try to do my best work in all my classes."

Meegan Reeck is the daughter of Gary and Luanne Reeck. Her teachers state she is a good student who contributes in all her classes. She is a responsible individual, and a hard worker.

Reeck was proud to be selected. "I earned the award because I handed in all my assignments and paid attention in class," she said.

Heather Albrecht is the daughter of Donald and April Albrecht. Her teachers state she is a hard worker, very responsible and a goal setter. Albrecht is friendly and cooperative in class.

Albrecht said her school activities include homework. She likes to read a lot and ride bike.

Albrecht was surprised and happy to receive the honor. "I try hard in school," she said.

Brandon Stang is the son of Duane and Barb Stang. His teachers state Stang is a hard worker, cooperative in class, and has a good attitude. He shows a desire to achieve his goals, they added.

Stang's interests include welding, fixing machinery, driving snowmobiles and four-wheelers.

Stang said he was surprised to receive the honor. "I try my best in school," he said.
---