Hoeft, Koehn receive Lions service award
This article submitted by Linda Stelling on 10/18/00.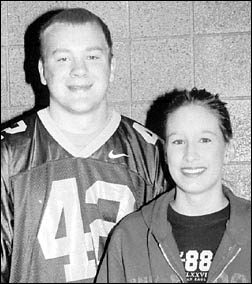 The Paynesville Lions Club selected seniors Stephanie Hoeft and J.T. Koehn as the recipients of their service award.

The award recognizes students who volunteer their time to help their classmates and the community.

Stephanie Hoeft is the daughter of Jerry and Melody Hoeft. She was shocked to learn about the recognition.

"Volunteering shows that people care," Hoeft said. "Volunteering comes in many different forms, such as a smile, hug, or someone to assist and understand others problems. I like volunteering because my parents have shown me how to enjoy helping others."

Hoeft added her grandfather Norman Bork is her largest role model in showing strength by volunteering and helping others.

Her favorite memory of service work relates to her trip to New York. "The paper came out and could not believe that people from different states would clean up and paint in their town," Hoeft said. Some parents walked by and thanked them for their work, she added.

Hoeft is a peer tutor, helper, and mediator in school, a teachers aide, a member of the National Honor Society, Target Leadership, and editor of the school newspaper.

She earned the John McLaughlin Citizenship award as an eighth grader, took part in the United Nations Pilgrimage for Youth, was a Girls Stater. She participates in danceline and letter winners club, and taught Spanish at the elementary school.

At church, Hoeft helps out in the nursery and has spoken various to church groups.

J.T. Koehn is the son of Ric and Barb Koehn. He was shocked to receive the award.

"Volunteering makes me feel good and that I'm doing something to help the community," Koehn said.

His favorite memory of service work involves his trip to Kentucky with the church youth group. "My group helped put on a porch roof in 110 degree heat. It was a lot of fun working together to build the roof," said Koehn.

Koehn is a peer tutor, PALS volunteer at the elementary school, teachers aide sings in the choir, pops choir, and is a member of Target Leadership and the Letterwinners Club. He competes in basketball and football.

Koehn volunteers his time Sunday mornings running the sound system at church, helps in the nursery on occasion, and sings in the church choir. He has taken part in a mission trip to Kentucky and helped with fund raisers for a homeless shelter.
---