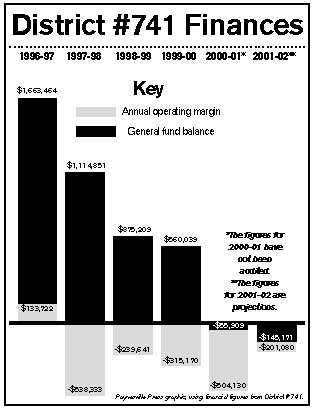 Voters in the Paynesville Area School District have passed three excess levies: in 1988, 1993, and 1997. If the school board and administration have their way, voters will pass the district's first operating levy on Tuesday, Nov. 6.

The first excess levy, in 1988, was made to avoid making more serious budget cuts at a time when the district fund balance was in deficit, but the excess levies in 1993 and 1997 helped the school operate more efficiently and offer better educational opportunities for local students.

For example, the 1993 levy helped the district switch to half-day everyday kindergarten and hire a full-time community education director. The 1997 levy was passed on the promise of adding technology, keeping class sizes small, adding Spanish as a foreign language, and improving supplies.

This time, the sales pitch for the excess levy will not be adding programs or purchasing extras. This levy, school officials maintain, is needed for the operation f the schools: to keep existing programs, to avoid large-scale budget cuts, and to help balance the district's budget.

"There will be no choice but to do another budget cut process if the levy doesn't pass," explained school board chairman Pat Flanders. "And I don't know what we can cut."

"What we did last year was not good for education," he added, "but when you have no money you've got no choice."

The district's general fund balance peaked in 1996-97, with the school having $1,663,464 on hand. Since then, the school district has had deficit budgets for four straight years and seen that fund balance disappear.

Last winter, the district cut $512,000 from its budget for 2001-02, which has produced a budget with a projected deficit that would be the smallest in five years: $201,080.

Still, the school district could be in statutory operating debt once the annual audit is completed, and there are only two ways, according to superintendent Howard Caldwell, to balance the budget and restore a balance in the general fund: either increase revenue or cut spending.

School districts are at the mercy of the Legislature and governor who have not made education funding a priority, according to Caldwell. "That's part of the problem in the school business. Every year something new is thrown at us. We don't know what we're going to get," he said.

For 2001-02, the school district got a 1.8 percent increase in state funding, which combined with declining enrollment offers little help in balancing the budget. "We're just not getting enough money to make ends meet. Two percent is not enough," said Caldwell.

In 2003-03, schools will get slightly larger increases, in part because $415 from excess levies will be rolled into the general state aid. For Paynesville, which already had a $315 excess levy, this means an increase of $100, but it also means the levy - which should have lasted another seven years will be taken off the tax rolls, which leaves a bitter taste in Flanders' mouth.

"Basically, they took our levy away," he complained. "They passed the buck back to us: if you need more money, pass an excess levy."

If the excess levy is passed, local taxpayers will have to pay an extra $180,629 on their 2002 taxes, but the school will receive an additional $456,177 in revenue. The state will effectively pay 60 percent of the excess levy.

The state pays in two ways: equalization and equity aid. State equalization in 2002-03 would amount to $233,095, and equity revenue would add another $42,453 to the school's coffers.

"It's really, in my opinion, an inappropriate way to operate schools," said Flanders of freezing funding and forcing schools to resort to passing excess levies. "I'm offended that we have to go to the public and resell what we already had. I never thought I'd have to do this again."

The state has also reduced the amount of equalization for new excess levies. When Paynesville passed its $315 per pupil unit levy in 1997, the state paid for 75 percent. If it passes this time, the state will pay only 60 percent next year.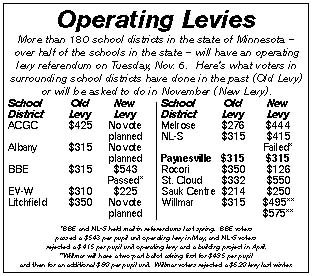 Paynesville was not alone in making budget cuts last year. And it wasn't just rural schools experiencing declining enrollments, either. Some suburban and outer-ring metro school districts made substantial cuts, too, like Monticello and Chaska. "It's not just us," said Caldwell.
Over 180 school districts - more than 50 percent of the schools in the state - are asking voters to pass an excess levy this November.
While the need for the excess levy stems from the changes in the last legislative session, a big plus for its approval was also passed in that session. With the state taking over the general education levy, the school's portion of the property taxes will decrease by 60 percent in 2002. If the excess levy is passed, the school portion will still decrease by nearly 50 percent.
Caldwell thinks this referendum vote will show what this community values. "Do we value education enough to sacrifice part of our property tax relief?" he asked.
Both men are also encouraged by this community's recent track record for supporting the school through referendums. From 1967 to 1988, not a single school district levy passed. But starting with the first excess levy in 1988, voters have passed three excess levies and two building proposals (the middle school addition in the early 1990s and the auditorium/fitness center addition in the late 1990s).
"It's obvious to me that Paynesville cares about their kids," said Caldwell in reviewing this track record over the past dozen years. "I would hope the community would continue to support the school district," he added.
---
Contact the author at paypress@lkdllink.net • Return to News Menu
Home | Marketplace | Community
---