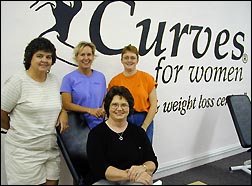 A fitness center structured especially for women, Curves for Women, opened in Paynesville this week. "I have a selfish motive for opening the business," said co-owner Margaret Swanson of Paynesville. "I want to lose weight."

The program is structured for women and the different body problems they encounter with aging, Swanson explained. The center will have sessions for women to exercise exclusively so they won't feel self-conscious about exercising with men, she added.

Margaret Swanson (seated) and her sister Janet Kohl (top left) opened Curves of Women this week. Managing the fitness center will be Karlene Gray (back center) and Michelle Moser (back right).

In the future, the center may add times for men to exercise.

Women are getting busier and find it harder to fit in exercising, Swanson said. "A person can do as little or as much as they want with this program. The stronger you get the harder you work," she explained.

Curves for Women uses hydraulic equipment, which concentrates on building muscular strength and raising metabolism so women don't have to diet as much, said Karlene Gray, a co-manager. The faster a person uses the machines, the more resistance they build up, she added.

A half-hour workout uses eight different pieces of equipment. The program calls for 30 seconds on a machine followed by a 30-second break. Clients keep rotating from machine to machine until the half hour is up.

The women exercise to music. The music program tells clients when to change machines.

The center can accommodate up to 16 people at a time.

The program exercises various muscle groups of the body. "A person doesn't leave with sore muscles. If you get sore, you are using the machines incorrectly," said Swanson.

Curves for Women is a joint business venture between Swanson and her sister, Janet Kohl of Maple Grove. Their entire family (their mother and six sisters) have used the Curves for Women exercise program in the Twin Cities and found it beneficial.

Swanson and her husband had vacationed on Lake Koronis for 18 years and have been full-time residents for four years. She works at the Willmar Post Office.

Curves for Women will be open from 7:30 a.m. to 1:30 p.m. and 3 to 7 p.m. on weekdays, and from 8 a.m. to noon on Saturdays.

Rates will vary for customers, depending on the exercise program they select. For information, call 320-243-9181.
---
Contact the author at paypress@lkdllink.net • Return to News Menu
Home | Marketplace | Community
---