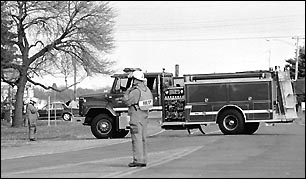 A threatening phone call disturbed a quiet Sunday afternoon for Scott and Faith Molitor. A caller told the Molitors, who live on Highway 23 on the east side of Paynesville, that there was a bomb in their house.

"It freaked me out," said Faith about the call she received around 4 p.m. on Sunday afternoon.

She went outside to tell her husband, who thought it was a joke. Then she returned to the house and called the Stearns County Sheriff's Department.

The dispatcher sent sheriff's deputies as well as members of the Paynesville Police Department, the Paynesville Fire Department, and the Minnesota State Patrol to their home.

After making the call, Faith took their infant and stayed at a neighbor's house until everything was clear.

The firemen closed off the area (shown above) and detoured traffic on Highway 23 through the Industrial Park. The firemen also cautioned homeowners in a one-block radius of the Molitor's home to stay indoors.

The law enforcement officers searched the house along with Scott Molitor, but found nothing.

The deputies were on the scene and traffic on Highway 23 was detoured for about two hours.

The Molitors were questioned as to why someone would play such a prank on them, said Tony Schmitt, Paynesville Police Chief.

Schmitt advised people to dial star (*) 57 on their phone immediately if they receive a prank call. This will perform a trace of the incoming phone call by the phone company.

If another incoming call is received, the number will be lost and impossible to trace. Faith received another call shortly after the threat, and as a result the prank call couldn't be traced.

Schmitt advised homeowners to perform the trace and then to call 911. Don't call anybody or take any further phone calls, Schmitt warned, and take all threats seriously.

It is a federal offense to make bomb threats.

The incident is under investigation by the Stearns County Sheriff's Department.
---
Contact the author at paypress@lkdllink.net • Return to News Menu
Home | Marketplace | Community
---