Seniors Morgan Martinson and Ann Stalboerger have been selected by the Paynesville Lions Club as their service award winners for October. Each year, the local Lions Club, a service organization, recognizes eight seniors at Paynesville Area High School for their volunteer work, both at school and in the community.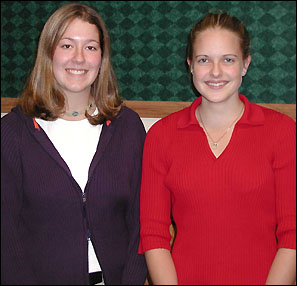 Both Martinson and Stalboerger said they were pleased to receive the award. "I was very surprised," said Stalboerger. "After learning about the award and the criteria for it, I was very honored to be receiving it." "I was happy," added Martinson. "It was cool to learn more about the award and to find out why I earned it."
Ann Stalboerger and Morgan Martinson - both seniors at PAHS - were selected for Lions Service Awards in October. Once again, the Lions Club will recognize eight seniors this year for their volunteer work.
Giving back to their community and to others motivates both Martinson and Stalboerger to do volunteer work. Martinson said that volunteering is important "because I am helping people who need it out of the goodness of my heart and I like to make people happy."
"I have been extremely blessed in my life," explained Stalboerger, "and feel that the least I can do is give some of my time to others who might be less fortunate than I. Everybody has something to give."
At school, Martinson, the daughter of Luke and Laura Martinson, is a peer tutor, a student aide, and a D.A.R.E. role model. She also participates in volleyball (where she serves as captain), track, choir, band, and pops choir. She also belongs to the Letterwinner's Club.
At Nordland Lutheran Church in rural Paynesville, Martinson has served as a Sunday school teacher and assistant, she has assisted with Vacation Bible School, and she has gone on a service trip to the Pine Ridge Reservation in South Dakota. She also serves as youth league president, belongs to the choir, helps with puppet ministry, serves as a lector, and provides special music.
She is also the reigning Miss Paynesville.
Stalboerger, the daughter of Tony and Patty Stalboerger, is a peer helper, a peer tutor, a student aide, a D.A.R.E. role model, and a Pals mentor at school. She also serves as the vice president of the student council, plays in the band, competes in basketball and softball (where she will serve as captain this spring), and belongs to the National Honor Society and the Letterwinner's Club.
At St. Margaret's Church in Lake Henry, Stalboerger sings in the choir, teaches religion classes to fourth graders, and serves as a lector and a mass server.
"Take some time to volunteer," she urges.
---
Contact the author at editor@paynesvillepress.com • Return to News Menu
Home | Marketplace | Community
---