Sen. Kleis talks to chamber about one-house legislature
This article submitted by Linda Stelling on 10/13/98.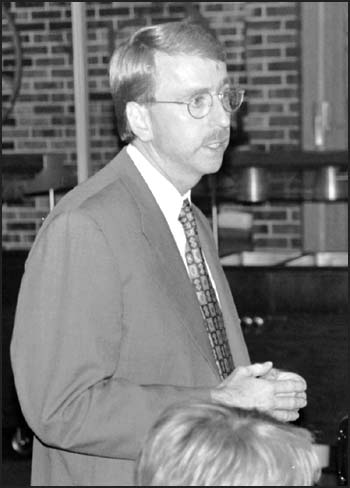 Senator Dave Kleis, R-St. Cloud, meet with the Paynesville Area Chamber of Commerce last week to discuss the effort by a number of Minnesotans concern about forming a unicarmeral (one-house) Legislature.

Senator Kleis believes that govern-mental reform wonít happen without substantial public support, since politicians will naturally try to avoid action that would result in many of their own jobs being eliminated.

Kleis has spent almost four months criss-crossing Minnesota to get the word out and to enlist citizens to sign a petition. He is optimistic about gathering 10,000 signatures before the next session of the Legislature. ďPeople are signing up right and left,Ē Kleis said. ďThey want their chance to vote on this idea and to amend the stateís constitution.Ē


The proposal to change Minnesotaís legislature to a one-house system with 135 members (instead of the current 201) was the subject of committee hearings in the House and Senate this year, and it received the backing of the Republican leaders in the House and Senate as well as the DFL Speaker of the House.

ďAs we saw in the stadium debate, when the people of Minnesota speak, legislators listen,Ē Kleis said. ďIíve found that citizens tend to like the idea of reducing the duplication and complication that currently defines our legislative process. With their support, a unicarmeral legislature could become a reality. It would save the state money, be more efficient, enable the legislators to be better prepared, and provide better representation to the people.Ē

According topetition organizers, with a single house Legislature, time and money isnít wasted on fruitless internal posturing. Staff and overhead costs also will be reduced, saving taxpayerís money.

In 1971, the Senate formed only 19 conference committees. Eighteen years later, that number grew to 157, according to former Senator George Pillsbury, R-Hennepin County,

Kleis said there is no accountability in conference committees. The committees are hand-picked by the Senate or House majority leaders and only a handful of people develop legislation.

Changing to a one-house legislature would require an amendment to the Minnesota constitution, which must be approved by both the legislature and then the voters of Minnesota.

Kleis said he hopes an amendment can be placed on the ballot in the next two years. ďThe best time to make a change in our legislature is when redistricting takes place after the 2,000 census,Ē Kleis added.

At present Minnesota is the fifth largest legislature in the nation and ranks 16h in population size.
---