Physicians assistant joins medical clinic
This article submitted by Linda Stelling on 10/13/98.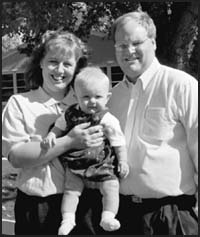 Gene Beavers isnít a new face at the Paynesville Area Health Care System. Newly hired as a physicians assistant, Beavers recently completed his internship in Paynesville.

Beavers started his internship at the Paynesville Area Hospital in June and graduated from Augsburg College on Aug. 16.

A physician assistant is a health care professional licensed to practice medicine with physician supervision. Common services provided by a physician assistant includes taking medical histories, performing physical examinations, ordering and interpreting lab tests, diagnosing and treating illnesses, assisting in surgery, prescribing and/or dispensing medication and counseling patients.

Beavers said they are trained to complement physician training. They receive a broad education in medicine.

Beavers has a degree in psychology and has worked with in-patient mental health at Mercy Hospital in Coon Rapids for three years prior to joining the physician assistant program at Augsburg.

During his internship, Beavers worked with Dr. Allan Solum.

Beavers said his goal is to help alleviate the waiting time patients have to see a doctor. He will be seeing walk-in patients who come to the clinic without an advance appointment. Beavers will be working under the staff doctors at the clinic and will have hospital privileges.

ďIíve already reached my biggest goal, that is to work and live in a small town in a family practice,Ē Beavers said.

Beavers and his wife, Bev, have an eight-month-old daughter, Ashley. Beavers is a native of Pine River, about 30 miles from Brainerd.