Lions give October service awards
This article submitted by Linda Stelling on 10/13/98.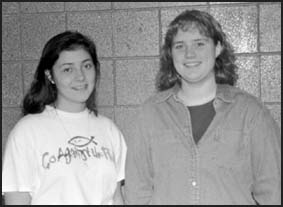 This is the second year the Paynesville Area Lions Club has initiated a program to honor and recognize seniors in high school who have demonstrated outstanding character during their school year by offering their time for the benefit of others.

This volunteer service is consistent with the values of the Lions Club and they believe itís important to encourage and recognize that spirit. Eight students will be selected this year for the award.

The Lions are also proud to announce they selecting two of the eight recipients to receive a $350 service award to be used to further their education.

The October recipients of the award are Amber Ingalsbe, left, and Wendy Utsch, right.

Utsch is the daughter of Ken and Shirley Utsch, rural Paynesville. She is a member of the St. Martin Catholic Church where she has been a religious teacher for two years. She helps at church bazaars, is a lector at church, and takes part in the youth ministry of the church.

Utsch worked on the prom committee last year, is a peer tutor and peer helper. She is a member of the National Honor Society, DECA, FLA and was selected the American Legion Auxiliary Girls Stater. She lists as her interests reading, writing poetry and spending time with family and friends.

When she isnít busy with her school or church activities, she can be found working at Wallyís G&T.

Ingalsbe is the daughter of Dave and Barb Ingalsbe, rural Paynesville. Amber is a member of the Paynesville Lutheran Church where she teaches and helps with Sunday school, is a Luther League youth advisor, sings in the church choir, does Luther League service work, is a communion server, and directs the bell choir at the Grace United Methodist Church.

Ingalsbe is a peer helper, peer tutor, member of the National Honor Society and letter club, Commended Merit Scholar, sings in the choir and pops choir, takes part in speech and dramatics, took part in the U.N. Pilgrimage for Youth, and is attending the National Youth Leadership Conference in Washington, D.C. this week.
---