German teacher staying in Paynesville;
while students enjoy 'American life'
This article submitted by Linda Stelling on 10/13/98.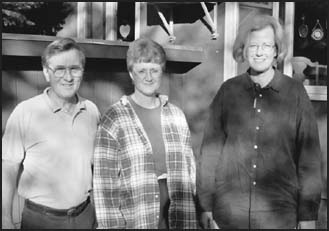 Inge Alim, Oldenburg, Germany, arrived in Minnesota Oct. 4, with 12 students. For many of the students, this was their first airplane flight and their first trip to America. They will spend a month with host families experiencing the American lifestyle and return to Germany on Oct. 30.

"The students were pretty excited about the trip," Alim said. Alim is staying with Don and Nancy Kjar, Paynesville, while the students are staying with different families in Eden Valley. This is also Alim's first trip to the United States.

Don Kjar is the German teacher at Eden Valley. He has made several trips to Germany each summer with students. In return, the German students come here for a month and stay with their counterparts who were in their home the summer before.

Eden Valley celebrated their Homecoming last week and this was a first for the German students. They don't celebrate Homecoming or have school sports. "The only activities connected to the school in Germany are music and theater performances," Alim said. "Sports are connected with clubs not schools in Germany."

Alim said the German students have been studying American History, about the American school system, and various vocabulary words connected with school to prepare them for their trip. "Students start preparing a year and a half in advance for their trip to America," Alim added. "We get more than 50 applica-tions and can only bring 12 students."

Alim and Kjar agreed that it is harder for American students to learn German than German students to learn English. "The German students get more exposure to English than our students are exposed to German," Kjar said.

"In most countries students start learning a foreign language at a younger age than our students do," Kjar added. "Most American students don't get exposed to a foreign language until high school."

While her students are attending classes with their American counter-parts, Alim is taking part in Kjar's classes, visiting the drama class, English class and hopefully before she returns home, the history department. In Germany, Alim teaches history.

Alim said the American schools are totally different than the German schools. In Germany the students attend school 13 years. The last two years they are required to take five main courses and three others. "Where American students switch classrooms for each class, the German students stay in the room and it is the teacher who moves from room to room," Alim said.

"We don't have televisions or computers in our classrooms, either," she added. "We're lucky if we have three televisions in the whole school."

Unlike our graduation standards, German students have to take a seven hour written test in three of their main subjects. The fourth subject is a half hour oral exam. "Students get extra credit if they do more oral exams," she said.

"Students are allowed to fail one subject area if they have good credits in another subject," Alim said. "If the students fail, they repeat the school year, not just the class they failed."

Kjar said failing idoesn't carry the stigma in Germany that it does here. "It is an indication that the students were not ready to move onto the next level. It's no big deal or disappointment in Germany. If a student fails twice, they quit school and move to lower level school," he added. Alim said that doesn't happen very often.

Alim said the students envision America as the country with high rises and skyscrapers. So as part of their trip they will see Chicago before returning to Germany.

Kjar said American students always envision Germany as a land of old castles and want to see castles when visiting Germany.

"The German students are used to a good public transportation system and aren't able to get a drivers license until they are 18. They are enjoying getting rides with their American partners who have had their license since they were 16," Alim said.
---