Deegan's college basketball team inducted to Hall of Fame
This article submitted by Michael Jacobson on 10/13/99.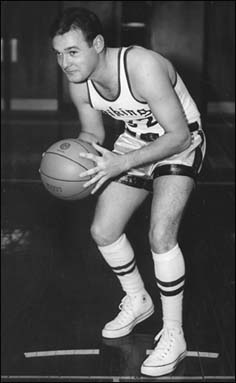 Thirty-five years ago Rick Deegan returned to Fargo, N.D., after a two-year stint in the United States Army. Waiting to see him that same day was Coach Osmon from Valley City State College. "How he knew?" wonders Deegan still. "But he wanted me to play basketball at Valley City (N.D.)"

"That impressed me," continued Deegan, "that he would remember me." What Osmon remembered was a fast, sweet-shooting forward who led his district in scoring his junior and senior years at Oak Grove High School in Fargo.

Deegan, then a 6'1", 183-pound guard, attended what is now called Valley City State University, starting in 1964-65. As a freshman, he was a reserve on a basketball team that qualified for the national NAIA tournament. That team was inducted into the school's Hall of Fame on Friday, Oct. 1.

In 1964-65, the Vikings had All American forward Jim Belquist; center Henry Holte, an All American the next year; and guard LeRoy Anderson, who ended his career as the eighth highest scorer in VCSU history. Deegan said their team wasn't especially tall, big, or fast. "We were a team," Deegan recalled. "We could shoot."

In their final conference game that season, the Vikings, with one loss, needed to beat the undefeated Dickinson College team, and they did, using a slow tempo and taking just two dozen shots. Three days later they faced Dickinson again in a one-game playoff to determine the conference title, and Valley City won again.

Then they beat Black Hills State College, from South Dakota, to advance to Kansas City. The 32-team national event seemed pretty fancy to the team from the North Dakota prairie, with sponsors and catered meals.

The competition was pretty eye-opening, too. Valley City played Midwestern Texas. "Our first score was the ball pinned to the backboard," explained Deegan. Valley City was eliminated 102-57.

Valley City's affection for the team wasn't changed by the loss. Deegan felt that affection during the induction weekend. "People were so nice," he said. "It's like we never left Valley City."

The formal induction of the team members into the Hall of Fame was done on Friday night, along with three other individuals. On Saturday, team members were recognized at an alumni breakfast, participated in the Homecoming parade, and were introduced at halftime of the football game.

Deegan, who hadn't seen many of his former teammates in 30 years, was pleasantly surprised to find them "like a big family," despite being bigger, greyer, and more bald.

Deegan doubts we would know him today, but for basketball. "Basketball has been a big part of my life," he explained, "...because it kept me in school." He grew up on the Fort Totten Indian Reservation in North Dakota, and then attended junior high school in Moorhead. His uncle sent him to Oak Grove to keep him in line. He played football and basketball there and ran track.

Ironically, he was most highly recruited out of high school for track, because as a senior he placed second, by a tenth of a second, in the 440-yard dash in North Dakota Class B. He still believes he should have won the race, having beaten the winner on several occasions previously.

His wife, Wanda, Coach Pederson from Oak Grove, and Coach Osmon from Valley City, Deegan said, "are the reasons I finished college." Deegan played basketball for four years at Valley City, starting his final two years.

At the Hall of Fame induction, Osmon told Deegan he was born too soon, before the invention of the three-point line.

An Oak Grove connection helped land Rick and Wanda in Paynesville, where they've raised three children--Kerry, Pat, and Angie--all basketball standouts for Paynesville High School.

Deegan visited Virg Vagle, an Oak Grove classmate already teaching in Paynesville, and ended up with a teaching job here, too. Deegan retired last spring after 31 years in the Paynesville schools, where he taught middle school social studies and coached football, track, and basketball, including stints as the varsity coach of both the boys and girls teams.
---