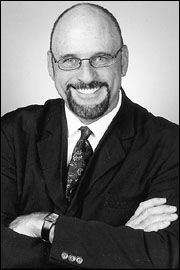 Thomas Harens is the only presidential candidate from Minnesota, the only one campaigning in Paynesville, and probably the only one whose own mother is voting for someone else.

Harens, who lives in St. Paul, is running for president while trying to found a new political party for Christians, called the Christian Freedom Party.

Thomas Harens of St. Paul is hoping to build a new Christian political party by running for president this fall.

He "literally started the party in June," he said during a campaign stop in Paynesville last week. So far, the party has few official members, though it has collected 3,000 signatures in three weeks to get on the presidential ballot in Minnesota.

(In Minnesota, the presidential ballot will include nine candidate pairings, the incumbent President George Bush and Dick Cheney, their main challenger, Democratic Senators John Kerry and John Edwards, and seven third-party pairings, including Harens.)

Harens thought about trying to get on the presidential ballot in Iowa and Wisconsin, too, but did not have enough time.

Harens grew up on a farm near Worthington and studied political science at Winona State. Then he got involved in several political campaigns and was elected to the Minnesota House of Representatives from St. Paul at 25 as a DFLer. But he served only one term (1981-82) before his district was redrawn.

He spent 10 years managing rock bands and has done various administrative jobs since.

By the late 1990s, Harens felt he had a moral and political conundrum. Being pro-life is "near and dear" to his heart, he said, having been raised Catholic, and he had never felt comfortable in the DFL Party because of his pro-life views. But on most of the issues he was liberal and progressive, agreeing with the DFL position, not Republicans.

When he looked for a new party, "no party came close to representing my views," he said, though he did run for mayor of St. Paul in 1997 in the Reform Party (now the Independence Party).

The platform of the Christian Freedom Party holds that neither the Democrats nor Republicans follow the philosophy and teachings of Christianity, and that this new party will give true Christians an alternative to the two major parties.

While he calls voting Democrat a venial, or forgivable, sin - for their pro-choice and pro-gay views and for their corporate cronyism - Harens' strongest criticism attacks the "Religious Right," and he calls voting Republican a "mortal sin."

"I grew up with a different view of Christianity," he explained. While through his Christianity he is pro-life, he sees social justice - supporting the poor, caring for the environment, human rights, etc. - as crucial tenets of Jesus' teaching that the Republican Party ignores.

Harens thinks that it is sad that the American dream today is a lottery ticket, as winning the lottery, despite the infinitesimal odds, has usurped parental belief that their kids will have a better life. Harens' mother and father earned enough from their farm to send seven sons to college, but now parents worry about affording tuition for their kids, he said.

"There are millions of progressive Christians who don't feel represented," he said, and he hopes to build the Christian Freedom Party as a small party for like-minded Christians.

Still, he knows that his own mother, as a staunch pro-lifer, will vote for President George Bush this fall. But, at least, Harens has given her a Christian choice, he said.

His criticism of Republicans and his former ties to the DFL Party have led some to accuse Harens of running a spoiler campaign. But he refutes the idea that he is just running a mock campaign simply aimed at diverting votes.

However, he does embrace making a political impact by taking votes away from the other candidates. Like well-known third-party candidate Ralph Nader, Harens wants to hold the feet of both parties to the fire.

If the presidential vote in Minne-sota is as close as expected, Harens hopes to make a difference. "If the Christian Freedom Party gets 1,000 votes, and someone wins by 500, we'll have made a difference," he explained. Without impacting the race, third-party candidates are ignored, Harens said. So to change the system, to establish a party, he needs to get noticed, he said.
---
Contact the author at editor@paynesvillepress.com • Return to News Menu
Home | Marketplace | Community
---