The words, "I love you Daddy," rang in Brian Jacobson's head throughout his 10-month deployment to Iraq, reminding him that he was needed back home. Those words - his daughter Abigail's first sentence - were uttered just two days before Brian shipped out to the Middle East, and they helped sustain him during his deployment.

Sergeant Brian Jacobson, a 1994 PAHS graduate, is a member of the Army's Forward Support Batallion, stationed at Fort Riley in Kansas. Late last month, Brian returned to Kansas after spending nearly a year in Iraq.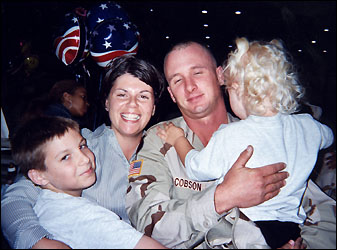 As a generator and air conditioning mechanic, Brian had one of the toughest jobs in Iraq, keeping soldiers at the Al Taquddum Airbase cool and comfortable. With temperatures that soared as high as 118 degrees in the shade, that wasn't always easy, according to Brian. It was always windy, but the winds provided little comfort. "The wind was like a hair dryer," said Brian. And it constantly blew sand, which caused a lot of equipment damage, he added.
After three days of traveling back from Iraq, Sergeant Brian Jacobson was exhausted but happy to embrace his wife Erin, his daughter Abigail, and his son Alexander Rothstein at the end of his 10-month deployment.
Sometimes, getting new equipment was difficult, so the base purchased air conditioners and generators from Iraqi civilian companies. Then Brian spent a lot of time improvising tools and parts to repair the equipment because his American tools and parts rarely worked on their equipment.
Fortunately, because he rarely left the safety of the base, Brian didn't face a lot of danger, he said. The base was a regular target of mortar fire, and a few hits were too close for comfort, he said. And, several times during his deployment, the base was placed on alert, but, thankfully, no serious attacks ever occured. The base was usually quiet, said Brian, except for the Muslim chants that were broadcast several times each day when local men working on the base would stop to pray.
Even though he wasn't in the thick of the violence, Brian knew from news reports and from first-hand accounts of other soldiers that Iraq was still a dangerous place. Other reminders could be found just across the highway from the base, where bombs still lined the roadsides and a nearby lake was speckled with bombs and debris that jutted from the water.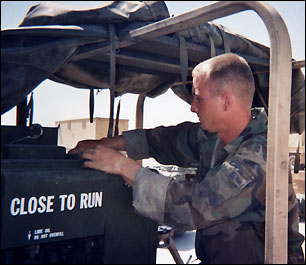 Because he didn't leave the base much, Brian didn't see a lot of the landscape in Iraq, but what he did see surprised him. Before he arrived, he expected the country to be an expanse of desert, but he noted that the river valleys were covered with lush, green farmland and were very beautiful. His base, however, sat in a desert in central Iraq about 45 miles west of Baghdad.
Brian Jacobson, an air conditioner and generator mechanic in the Army, worked on a generator at the Al Taquddum Airbase in central Iraq. Brian's unit spent nearly a year in Iraq before returing to Fort Riley in Kansas last month.
Keeping busy helped take the soldiers' minds off the heat and danger. It also helped keep Brian from dwelling on the family he was forced to leave behind. "If you think about them all day long, it would drive you crazy," he said.
Brian's wife Erin (Hauer), a 1995 PAHS graduate, has had plenty of experience as an Army wife. For the past seven years, Erin has endured deployments, overseas assignments, and frequent moves that are common to military life. Her husband was deployed to Bosnia for five months in 1998 and to Albania for four months in 1999, but never had a deployment lasted so long or been so dangerous.
Family support on the post is wonderful, said Erin. But, instead of staying in Kansas, Erin chose to spend the time in Paynesville where she had the support of her family and friends. With her parents and Brian's parents nearby, Erin had plenty of family support and Abigail had the opportunity to spend time with her grandparents.
Daily e-mails and regular phone calls from her husband helped make the family's separation bearable, but sometimes e-mails didn't come for a few days. Then Erin would start to worry.
Brian called home as often as he could, but usually the reception was very bad, said Erin. As soon as she knew he was on the line, she would make sure she said "I love you, and I miss you," before they lost their connection.
One of the more difficult things during the deployment was making sure that Abigail, who is now two and a half, didn't forget her father. Erin helped her by talking about Brian a lot. When they picked Brian up after the deployment, Abigail didn't hesitate at all and was calling Brian "Daddy" on the way home.
"When I left, she was just starting to talk, now she's bossing me around," Brian grinned.
Throughout his Army career, Brian has been impressed by how strong his wife can be, and this deployment only proved what he already knew: his wife is pretty special. Not only has she endured countless moves but she tackled moving the family back to Kansas on her own beautifully, said Brian.
Sometimes, the hardest part about returning from a long deployment is falling back into a regular routine, which the Jacobsons are doing quite well, said Brian.
Later this week, Brian, Erin, and Abigail will return to their new home in Kansas where Brian will be stationed for another year. Although Brian and Erin believe Army life has been good for both of them, the couple believes it may be time to give it up.
With seven years in the military, Brian believes he will probably get out when his time is up in December 2005. With Abigail and Brian's son Alexander Rothstein, 11, getting older, it's getting more difficult to leave his family behind, he said.
After Brian is discharged, the family plans to return to central Minnesota, and Brian hopes to work as a diesel mechanic.
---
Contact the author at editor@paynesvillepress.com • Return to News Menu
Home | Marketplace | Community
---