Scott Hood, a 1979 PHS graduate, earned a Bronze Star for his recent year-long deployment to Iraq with the Army Reserves.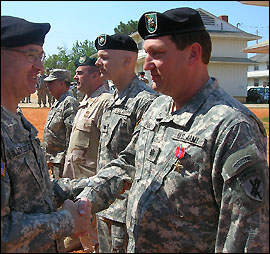 Hood, a 1983 graduate of West Point who served in the U.S. Army for ten years, has now served in the Army Reserves since 1993. He is a lieutenant colonel in the 351st Civil Affairs Command.
Sixty to 80 members of his unit were deployed to Iraq in May 2005 and stayed until May 2006. While there, the unit - which specializes in working with the people of other nations to help build representative governments, according to the army - focused on a number of missions to aid the new Iraqi government. The 351st Civil Affairs Command, according to the army, includes soldiers with expertise in everything from public safety and public health to legal systems, education, public works, and utilities.
Lieutenant Colonel Scott Hood (right) - a 1979 PHS graduate - was awarded a Bronze Star at Fort Bragg, N.C., last summer for his tour of duty in Iraq.
Hood served as chief of the elections branch, coordinating between the American military forces (which provided security for the elections in the fall of 2005) and the Iraqi Electoral Commission.
The highlights of his work in Iraq were the nationwide referendum on the new Iraqi constitution in October 2005, said Hood, and the nationwide parliamentary elections in December 2005. His duties ranged from coordinating security and procedures for the election to solving "logistical glitches" such as procuring the necessary voting materials.
"Everything seemed to focus on the election," said Hood of his work in Iraq.
Hood has served abroad numerous times during his military career, including another wartime assignment to Bosnia in 1997-98.
Upon returning stateside, Hood received a Bronze Star for his work in Iraq at Fort Bragg in North Carolina this summer.
More recently, his unit - based in the San Franciso Bay area - was honored with a homecoming celebration on Saturday, Oct. 7.
The 351st Civil Affairs Command is based in Mountain View, Calif.
Hood lives in Redwood City, Calif., with his wife Martha. His daytime job is as the assistant executive director for the San Mateo County Employee's Retirement Association, which represents 10,000 members and has a fund of $1.8 billion.p
---
Contact the author at editor@paynesvillepress.com • Return to News Menu
Home | Marketplace | Community
---