Spring Hill man is pleased to plow
This article submitted by Michael Jacobson on 10/11/00.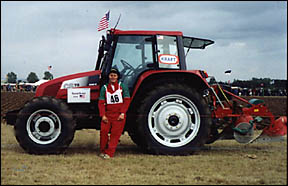 That Conrad Gruber would be successful in plowing contests can hardly be surprising considering that he comes from the First Family of American plowing.

The Gruber family learned to plow on their Spring Hill dairy farm. Conrad's father, Werner, was the first four-time entrant at the world competition, and his father's cousin, Bernard Nietfeld of Greenwald, was the second.

American rules limit competitors to four world competitons, and in England during a week of September, Conrad finished his third world competition, with his and the nation's best percentage placing.

Plowing contests, while widely popular in Europe, are not so common in the states. Plowing competitions are contested weekly in parts of Europe.

Stearns County does have an association, though, and has held the state competition near Spring Hill for two consecutive years.

The world competition attracts hundreds of competitors, coaches, and officials, and hundreds of thousands of fans. The competition is normally dominated by Europeans, and an Englishman and a Dane won the two classes this year.

In his third world competition, Conrad was happy to flirt with the top half of the field. Out of 47 contestants in the small plow division, he placed 21st in plowing a field of stubble, and 34th in plowing a grassland.

"I was real happy," he said. "I got a lot of compliments from the other competitors that I was the best from the United States that they had ever seen."

More typical, Conrad said, is for the Americans to finish in the bottom ten.

The event lasts a week, with four days of practice and two days of competition. Heavily sponsored teams from European nations might spend weeks in getting used to their tractor and plow and practicing before that. "Norway was upset because they lost their sponsorship and only had $20,000," said Gruber with a wry smile.

While he did have a small sponsorship with Kraft and he got some funds from the county association, Gruber Dairy Farms picked up the majority of the expenses.

Conrad, his wife Sandra, and her cousin, Rick Marthaler, spent two weeks in Lincoln, England, which is about 150 miles north of London.

While his wife had time to sightsee with the wives of the other contestants, Conrad and Rick spent the few, precious days before the competition adjusting the three-bottom Kvernoland plow that he would pull behind a Case Styer tractor.

In the European competitions contestants are given almost three hours to plow a plot that is slightly larger than a half acre. They are judged on straightness, conformity, split, crown, and other factors. Their opening furrow is judged, and then the entire plot. They are penalized if they use too much time or if they leave any trash showing.

For his competition plot, which was 60 feet wide and 360 feet long, Conrad was pleased to be only an inch or two off from one end to the other. The top competitors would want their margin to be less.

Gruber qualified for the world contest by winning the U.S. title in the summer of 1999. His brother-in-law Greg Marthaler took second in his class this year.

He attributes his improvement at worlds this year partly to some advice he got from a former world champion from Ireland, who was not competing. From his Irish friend, Gruber got lots of tips about plowing a grassland.

"Usually the grassland is where we fall out, because we never plow sod," he said.

"Ten minutes of his time was worth five years of the U.S. time. He definitely knew what he was talking about," he added.

Meeting competitors from all over the world is one of the highlights of competing for Gruber. Thirty-two countries are represented at worlds. "It's fun to be good at plowing but it's even better to be with so many people from around the world," he said.

Since the majority are farmers, and all do something related to agriculture, they have lots to talk about, especially their common problem. "We're too good at what we do, and we've got bad prices," said Gruber.

Gruber previously competed at world competitions in New Zealand in 1994 and Australia in 1997. When he started, his goal was to visit those two places, along with a European country. "So, I'm satisfied with where (I've gone) originally," he said.

Altogether, the Gruber family has ten trips to world competitions, which is the most of an American family. Werner leads with four, Conrad now has three, and his brothers Henry and Gene have two and one respectively. Every member of the family has some sort of trophy from plowing contests.

As the youngest family member, Conrad had to wait for his dad to earn his fourth world trip and for his brothers before the family had a plow available for Conrad to pull at competitions.

Now he's got his sights set on a fourth trip. It won't be next year in Denmark, but 2002 in Switzerland or 2003 in Canada are possibilities. Then, in 2004, the contest will be held in the United States, and Fargo and Iowa are expected to bid to be hosts.

Even if he isn't competing, when the world comes within driving distance, Conrad will need someone to milk his cows so he can visit his plowing friends.
---