Paynesville Lutheran Church has new pastor
This article submitted by Michael Jacobson on 10/04/00.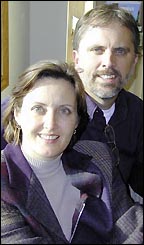 Eighteen years of ministering in Minnesota hasn't shaken his faith. Because he grew up in LaCrosse, Wis., Pastor David Nelson is a fan of the Green Bay Packers.

Green and gold memorabilia in his new office at Paynesville Lutheran Church is modest, but parishioners should be ready for Packer references in his sermons.

For awhile, the subject might be empty boxes. Pastor Nelson, who was installed on Sunday, Sept. 24, is helping the church move back into its remodeled building and helping his family get settled in its new community.

Actually, Pastor Nelson was born in South Dakota, as the youngest of five kids, and his family moved to LaCrosse when his dad, who was also a pastor, took a call there. His father stayed at that church for 23 years, so Pastor Dave, as he is known now, started grade school and finished high school in LaCrosse.

He took a year of university courses there, too, before completing his undergraduate degree in history and religion at Carthage College in Kenosha, Wis.

While growing up, Nelson said he wanted to be a pastor, mostly he says now because he wanted to be like his dad. At Carthage, he started to think seriously about a pastoral career, "It just sort of evolved,' he explained. "I just felt that was where I was being led.'

He attended Lutheran Seminary in St. Paul, and interned in Alexandria. When that church decided to add a second pastor, he returned there for his first call.

Pastor Dave met and married Diane while serving in Alexandria, where he served for three and a half years.

Wanting to expand his experience in all aspects of the ministry, he took a call to Gaylord, where he served six and a half years. Then he accepted a call to a mission church in Clearwater, where he stayed for eight years before coming to Paynesville Lutheran.

At Clearwater, Diane, whose father is also a pastor, finished her degree and began working in the church with her husband. She started part time in lay ministry and later added responsibilities with youth to become full time.

Diane will be working part time for Paynesville Lutheran, too, primarily with youth and their families. "Youth is really her passion,' Dave said. "She gets it from her dad. He had gifts with youth.'

The opportunity for Diane to work in the church was one of several factors that led the Nelsons to accept the call here. These factors led Dave and Diane to believe that God wanted them in Paynesville.

Pastor Dave said he had always heard good things about the congregation at Paynesville Lutheran. He also liked the emphasis on music, the leadership in the church, and the opportunity to live in a community again.

The Nelsons have three children: Joshua, who is currently serving in the military; Katie, an eighth grader at Paynesville Area Middle School; and Kayla, a seventh grader.

Paynesville Lutheran still plans to call an associate pastor.
---