Integrated Health Center turns one
This article submitted by Micheal Jacobson on 10/04/00.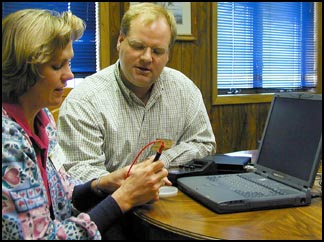 The Integrated Health Center (IHC) passed a quiet first birthday in September. It has been a year since the Paynesville Area Health Care System (PAHCS) started the venture, which combines Western medical approaches with cutting-edge treatments.

The IHC opened its doors just after Labor Day a year ago. Since then, the center has discontinued its chiropractic services, but has quadrupled its medical coverage.

Deb Schaefer, R.N., tests Gene Beaver, P.A., with the EQ4 system.

A year ago, Dr. Tom Sult, whose expertise in complementing Western medicine with so-called alternative techniques prompted the start of the center, was the only medical practitioner at the IHC.

For ten months, Dr. Sult split his regular office hours between the IHC and PAHCS's satellite clinic in Belgrade. Since the July arrival of Dr. Heidi Malling, who now covers the clinic in Belgrade, Sult has had all his regular office hours at the IHC.

In addition, Gene Beavers, physician assistant, and Dr. Clemma Nash, who started with PAHCS in September, now spend a day and a half each week at the IHC. Beavers spends the rest of his office hours at the Paynesville Area Medical Clinic, and Nash spends two days at the satellite clinic in Richmond. With Nash and Sult practicing there, the IHC now has a doctor present throughout the week.

PAHCS clinic manager Rosemary Devlin expected the IHC to double in size in the first year of operation, but she is surprised to have three practitioners spending time there. The IHC now has eight full or part-time workers, including Deb Schaefer, a registered nurse who handles a number of treatments and does patient education.

The greatest strength of the Integrated Health Center, according to Devlin, is that it has trained physicians with an interest in alternative, cutting-edge treatments. "The beauty of it is they are still family practice physicians first," she explained. "A lot of places you go don't have that." One of the principals of practitioners at the IHC is functional medicine, which focuses on individual patients and finding treatments that help them lead healthier lives.

Beavers, who has worked for PAHCS for nearly two years, opted to spend part of his time at the IHC because of a developing interest in functional medicine. During his time here, he has seen a lot of patients with chronic conditions. He is interested in alternative therapies to help these patients with long-term problems feel better.

Beavers has read, researched, and attended conferences about functional medicine. "The best way for me to learn these things is to get over (to the IHC) and dive in," he said.

Working at the IHC, Beavers will get to work with Dr. Sult, who has practiced functional medicine for years and is a nationally known speaker.

Treating arthritis
A relatively new treatment at the IHC uses antibiotics to treat arthritis. Dr. Sult has been using antibiotics to treat arthritis patients for ten years, since before he moved here from California. In the last six months, he has renewed his interest.

While not definitively proven, evidence suggests that arthritis may stem from a bacteria infection. The inflammation that causes pain results from the body's attempt to kill the intruders.

"Because these bugs have disguised themselves, the immune system mistakenly attacks our own tissue while looking for the bug," explained Sult.

While a typical treatment of anti-inflammatory drugs eases the arthritic pain that is caused by swelling at the joints, a long course of antibiotics, in low doses, has been shown to be effective in treating arthritis in several studies. Progress from the treatment can take a year to show itself, but end results have shown to be significant, including cases of remission.

Arthritis can be treated by a number of therapies, from physical treatments like range of motion and heat therapy to nutrition and diet. In some cases, a food allergy might trigger swelling, increasing the pain, so by reducing the allergic reaction, Dr. Sult can ease a patient's pain. Or Dr. Sult might prescribe a certain nutrient to the diet to reduce swelling.

Or, in some cases, the more standard treatment of drug therapy (either aspirin or a supplement) would be used.

"The bottom line is we want (the patient) to feel good," Sult said.

New diagnostic tool
The IHC also has a new diagnostic tool. The EQ4 system tests electric conduciveness at acupuncture points on the hands and feet to check for energy imbalances.

By checking a total of 54 points on both hands and feet, the energy reading can indicate if the patient has a chronic or acute illness of a certain body system or organ.

For instance, the 16 measuring points on the hand correspond to the palate, throat, sinus, lung, large intestine, heart, small intestine, and circulation. They also measure allergies, the energy of certain glands, and some body systems.

Dr. Sult uses the EQ4 system as a general diagnostic tool, like a blood test would be used for biochemistry. With a patient that has multiple, chronic symptoms, the EQ4 system helps guide him to the underlying causes.

The EQ4 system, which has been cleared by the Food and Drug Administration since 1992, isn't the only energy testing device used in medicine An EKG measures electromagnetic fields around the hart muscles, and an MRI also uses magnetic fields for testing body tissues.

Both Dr. Sult and Deb Schaefer, a registered nurse at the IHC, went to Salt Lake City last spring to train on using the EQ4 system. They have been using it at least once a day since March, Schaefer reported.

A typical test on the 54 points on the hands and feet would take an hour.

They can also test for specific allergies and the lack of certain nutrients. This can be done because each nutrient and potential allergen has a specific sine wave that the machine can transmit to the body. Then the EQ4 measures energy level to detect any effect on the body.

Out of pocket
The EQ4 system is not covered by insurance. An initial test costs $100 and follow-up tests cost $50 out of pocket for patients. Devlin said it's typical for insurance not to cover cutting-edge techniques like the EQ4 system. It isn't the only item at the IHC that isn't covered by insurance, leaving patients to pay out of their own pockets.

"It's not a problem because people who want it done are willing to pay for it," Devlin said.

The prices at the IHC, according to Devlin, are based on cost, labor, and a slight profit. "We wouldn't want to run in the red, but we're not looking to make a huge profit to the detriment of the patient," Devlin said.

She stressed that though the techniques are not covered by insurance, they are not being done without medical research. As the documentation and demand grows, they expect more insurance reimbursement for treatments at the IHC.
---