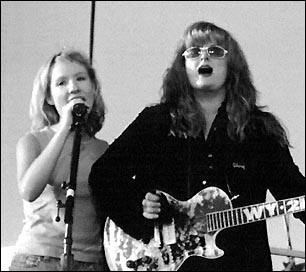 Trista Dukowitz (at left) has given country music star Wynonna many standing ovations, having attended her last four concerts in Minnesota. At her latest concert, Dukowitz got a standing ovation, too.

Dukowitz, a big fan of Wynonna, didn't care that her Sept. 9 concert at Jackpot Junction was on a Sunday night or that she had classes the next day at the University of Minnesota-Morris. She was going to see her idol perform again.

She ended up seeing Wynonna close up and getting invited on stage to sing a song with her idol.

Sitting in the general admission section, Dukowitz walked down to the stage to take Wynonna's picture. Wynonna wasn't singing at the moment, so Trista got up the courage to ask if she could sing on stage with her.

"I've always wanted to sing with Wynonna," said Trista, 19, the daughter of Marvin and Alice McColley of Paynesville.

"She's always telling people to follow their dreams during her concerts, and I did," Trista said.

Wynonna started singing "I Saw the Light," and asked if Trista knew the song. She, of course, did.

Trista thought she would be more nervous considering she was standing next to her idol.

Wynonna started her career in a duo with her mother Naomi, called The Judds. The Judds won four Grammy Awards. Wynonna's first solo album in 1991 had four number one hits. Her sister is the actress Ashley Judd.

Though Trista can be quiet and appear shy, she belted out the song the best that she could. She felt this was her big opportunity. "I felt I could do anything standing there on stage," she explained. "I was allowed to sing the whole song."

"It was an awesome feeling being on stage next to Wynonna," Trista added. While Trista was singing, Wynonna danced to the music.

"Boy, I'm glad you could sing," Wynonna said to Dukowitz on stage, according to a story in the Redwood Gazette. When Trista was done singing, Wynonna gave her a hug and Trista expressed her thanks for the opportunity to sing with her. The crowd gave Dukowitz a standing ovation and several people even asked Trista for her autograph as she walked back to her seat.

With the help of the concert security guards, Dukowitz tried to get backstage to talk with Wynonna after the concert, but there were too many people.

Now that her pictures of the concert are back, Dukowitz plans on sending Wynonna a picture of the two of them on stage and asking her to autograph it.

Dukowitz, a 2001 PAHS graduate, was a member of the choir and pops choir while in high school. She was crowned Miss Paynesville in June 2000, after performing a vocal solo as her talent number.

Dukowitz hopes to be a professional singer someday and to get another standing ovation as Wynonna's opening act.
---
Contact the author at paypress@lkdllink.net • Return to News Menu
Home | Marketplace | Community
---