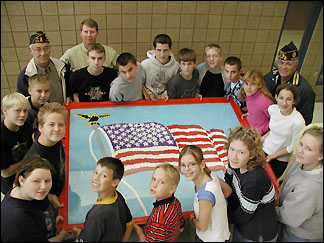 Coming soon to the lobby at Paynesville Area Middle School is a very special American flag.

Students in Jenica Rindahl's classes made the 4' by 5' flag, using 40,000 beads.

Twenty-five sixth, seventh, and eighth graders helped complete the flag during school last year. They started around this time, with each student responsible for a certain portion of the flag, and finished on the last day of school. "We worked on it whenever we had time," said Rindahl, "whenever they got done with their work."

All that remains is to hang the flag high on the wall in the lobby at the main entrance to PAMS.

Rindahl attended school at New London-Spicer and remembered doing a similar project with seeds in fifth grade. After 9/11, she got the idea to have a patriotic theme, which after looking at a number of designs came down to making an American flag. "I wanted the kids to do something they would remember. Something different than the typical academic work. Something they could be proud of," she explained.

The flag was used originally during the middle school program on the one-year anniversary of 9/11.

Rindahl and her carpenter husband made the frame. Then she painted the design onto the board. Kids glued the beads into place when they had time, between assignments for example.

The students were excited to do the project, Rindahl reported, and probably preferred it to their regular school work. "Anytime we had spare time they wanted to work on it," she said.

"Once they got started, it was kind of out of my hands and up to them," she added.

Sixth through eighth grade students (now 7-9) from Rindahl's classes and from her Prime Time group helped with the work. They were: Danielle Binsfeld, Wendy Buermann, Aaron Burris, David Christinsen, Jennifer Ferschweiler, Celia Frieler, Joseph Fry, Cody Fuchs, Ryan Gale, Holly Johnson, Tom Lewis, Josh Leyendecker, Matt Mergen, Ashley O'Der, Kris Person, Steven Powers, Laura Schaefer, Cory Schlangen, Krystle Schmidt, Jordan Schultz, Chris Sturtz, Michael Sturtz, Edwin Twedt-Coulter, Eric Utsch, and Brady Wuertz. The American Legion donated money for supplies.

This year, Rindahl plans to have her students do another project, but she is thinking about using seeds this time and planning to have it be half the size.
---
Contact the author at editor@paynesvillepress.com • Return to News Menu
Home | Marketplace | Community
---