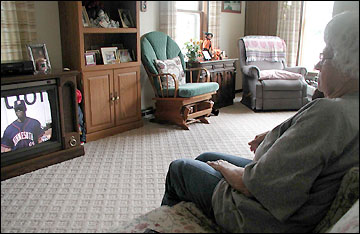 "Honk if you're a Twins fan," reads the sign in the window of Noleen Stanger's house, which overlooks Highway 124 in Paynesville.

"Well, there's been some honking, so a few people have noticed them," said Stanger, a die-hard Minnesota Twins fan herself.

She watches most every Twins broadcast, including their playoff games last week. "When they're not on television, then I turn the radio on. I miss very few games," said Stanger, 86, who has been known to skip family birthday parties to stay home and watch her beloved Twins.

"You guys will have more fun if I stay home," she remembers telling her family about a recent missed birthday party, "and I'll have more fun if I stay home. I'm getting too old for that stuff."

Stanger - whose second favorite team is the Atlanta Braves, because their games are broadcast all the time - is a sports nut, watching basketball, golf (especially if Tiger Woods is playing), tennis (if the Williams sisters or Andre Agassi are playing), and baseball.

She doesn't have much time for football, because she doesn't understand all the rules, and for television news. "I get the daily paper," she explained. "I don't need (to watch) the news."

Of course, the first section she turns to in her daily Star Tribune is the sports section, which she likes because it has lots of details. "That's why I get the Minneapolis paper for 50 years," she said.

Stanger got her love for sports from her family. Her dad played amateur baseball, and her older brother was very sports-minded, she said. Her brothers, son, and nephews played baseball and basketball.

Noleen retired in March of 2000 after 69 years of working, including the last 47 years straight. For the past 27 years, since her husband, Orville died, television sports, and especially the Minnesota Twins have been her main hobby. "That is my pastime," she explained. "I guess I wasn't much for going uptown."

That's another thing she hasn't got much time for: coffee. She likes to eat at restaurants, but she'd rather sit at home and watch sports on TV than drink coffee and gab.

Stanger, like any devoted Twins fan, has weathered some pretty lean years in the late 1990s, only to see her team win the Central Division this year, make the playoffs for the first time in a decade, and advance to the League Championship Series against the Anaheim Angels.

But, even when the Twins were racking up 100-loss seasons with the lowest payroll in the league, she was still a fan. "I'd watch them regardless," she said. "Win or lose, I'd watch them."

Winning, though, like the championship years of 1987 and 1991, are more enjoyable. "It was better last year and this year," she said. "More fun."

Her favorite current player is first baseman Doug Mientkiewicz, who she admires for his defense. She thinks he rates with her all-time favorites: Kent Hrbek and Harmon Killebrew. In her eyes, other standouts for the Twins this year are leftfielder Jacque Jones, centerfielder Torii Hunter, and pitchers Rick Reed and Kyle Lohse, though they have a ways to go to catch Hrbek, Killebrew, and Mientkiewicz.

She sure wishes the state would build the Twins a new stadium, though she doesn't expect to get down to a new stadium at all. She and Orville, though, used to go to see the Minneapolis Millers, a minor league team, in the late 1940s and early 1950s.

Last week, with the first-round playoff series in full swing, Stanger had as much baseball as she could watch each day. She, of course, didn't miss her Twins, who defeated the favored Oakland A's 5-4 in a decisive fifth game in Oakland on Sunday.

"I want the Twins to win," she said, setting her sights now on the pennant. "They may not win, but I'm hoping so."
---
Contact the author at editor@paynesvillepress.com • Return to News Menu
Home | Marketplace | Community
---