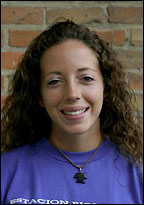 Gretchen Ziemer, a 1999 PAHS graduate, spent her summer monitoring sea turtles on the Caribbean coast of Costa Rica. Ziemer spent her summer working on the Tortuguero beach, a popular nesting site for sea turtles.

Trips to Sea World and dolphin watching at Hilton Head got Ziemer interested in the seas and ocean life, and she studied marine science at college. She graduated from Eckerd College in St. Petersburg, Fla., in May 2003 with an environmental studies degree with an emphasis on marine science. For her degree, she studied biology, botany, geology, and the chemical and physical composition of the oceans and seas, as well as marine management and the laws and ethics regarding fishing, development, and pollution.

Gretchen Ziemer spent three months this summer studying sea turtles in Tortuguero, Costa Rica.

During her college education, Ziemer completed several summer internships, including micro algae cultivation near Sarasota, an attempt to grow algae to feed scallops in order to farm scallops rather than rely on catching them. Another internship was with the Ocean Conservancy, dealing with manatee and boater interaction, a big deal in Florida, where boaters frequently hit manatees.

And she worked with the Florida Department of the Environment to monitor sea turtle activity at an island county park. For that project, she monitored loggerhead turtles, spotting their tracks and marking their nests. After 60 days of incubation, Ziemer counted the successful number of youth and counted the shells to compute the success rate, all in an effort to count the population of the endangered species.

After graduation, Ziemer decided to pursue a research assistantship and, through a professor, found this unpaid position in Costa Rica. She wanted to do research in another country and preferred a Spanish-speaking one.

Ziemer worked for the Caribbean Conservation Corporation, a nonprofit organization based in Florida, that operates a research station at Tortuguero, in the northeast corner of Costa Rica.

Tortuguero, a village of 700 people, sits on a spit of land between a canal and the Caribbean Sea and is surrounded by water, said Ziemer. It has no cars and no streets.

Research assistants, like Ziemer, coordinate the research at the station, aided by volunteers, including ecotourists. They studied three types of turtles: green sea turtles, leatherback turtles, and hawksbill turtles. The Tortuguero Beach, which extends 18 miles, including 13 miles in a national park to the south, is the largest nesting place for green sea turtles in the Western Hemisphere, said Ziemer.

Green sea turtles nest from June to November and nest several times per year, but not every year. Between 1,000 and 1,500 green sea turtles nest each season at Tortuguero. Leatherbacks, larger than greens, nest from March to July with around 140 nesting at Tortuguero. Hawksbill turtles, the most endangered and the smallest of the three, nest from May to October with 20-30 nesting there.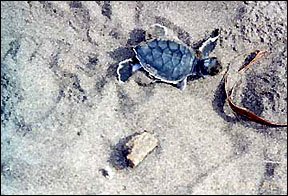 The reason why the beach is so popular for turtle nesting is not known, said Ziemer. One theory is that the black volcanic sand helps incubates the turtle eggs. Another factor is the topography of the beach, which is shallow with a big dropoff. It also has good feeding grounds, especially for green sea turtles, nearby.
Finally, one theory says that turtles have "imprinting" and nest on the beach where they are born. This theory, which is widely accepted, said Ziemer, says that turtles can recognize the sand on the beach where they were born.
The Tortuguero Beach is the most popular spot for green sea turtles to nest in the Western Hemisphere. This hatchling makes its way to the Caribeean Sea at Tortuguero.
Conservation efforts in Costa Rica are especially strong for the endangered hawksbills. Their shells can sell for as much as $200 if poached, said Ziemer, and their eggs are sold in bars and drunk as an aphrodisiac. One anti-poaching sign had a turtle saying, in Spanish, "My eggs are not the solution," while holding a package of Viagra.
The Caribbean Conservation Corporation monitors the turtles from March to November with eight research assistants divided into three seasons. Ziemer lived at the research station at Tortuguero from mid-June to the start of September. She then spent spent two weeks touring in Costa Rica before coming home to Paynesville.
The work at the research sta tion was done mainly at night, when the turtles come to the beach to build their nests and lay their eggs. They would work in two groups, one from 8 p.m. to 12 midnight and the other from 12 midnight to 4 a.m. They worked in the dark, wore dark clothes, and used red-filtered light.
Once female turtles are done nesting they go into a short trance-like state, said Ziemer, when the research assistants and volunteers could measure their shell, check them for tags, or tag their front flippers with a unique number for tracking purposes. This allows them to track how many times the turtle has nested and how it has grown over time.
Turtles are 25 years old before they become sexually mature and start laying eggs. The oldest turtle she saw on the beach had nested as far back as the 1980s, meaning the turtle was at least 45 years old.
Each night, they would mark the nests and excavate one and count the eggs, in order to evaluate nesting success. Hawksbill turtles lay eggs the size of a gumball, green sea turtle eggs are the size of ping pong balls, and leatherback eggs are the size of pool balls, said Ziemer.
The Tortuguero research station was established in the 1950s and helps monitor the turtle population to determine if turtle protection and habitat efforts in the Caribbean are working or not, said Ziemer.
"I felt I was making a difference," said Ziemer. "I felt like I was helping. I felt that what I was doing was really benefitting the species."
Not allowed in the water due to the alligators and the strong rip currents, Ziemer spent her free time at the research station playing soccer, playing board games, and reading.
While at Tortuguero, Ziemer met Mara Burr, a 1987 PAHS graduate, who is now a trade lawyer and was on a business trip to Costa Rica.
Ziemer, the daughter of Randy Ziemer and Pat Solum of Paynesville, plans to work in Minnesota for a year while deciding if she wants to apply to graduate school. She may try to do another research job next summer.
---
Contact the author at editor@paynesvillepress.com • Return to News Menu
Home | Marketplace | Community
---