Louis Industries goes from blacksmith shop to large steel processing plant
This article submitted by Linda Stelling on 10/6/98.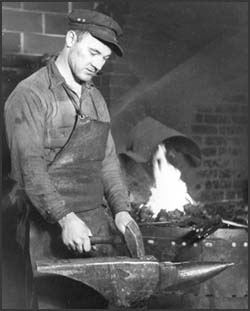 What started out in a small blacksmith shop on August Avenue has grown to one of the area's largest manufactured steel processing plants.

Alfred Louis came to Paynesville in 1940 and opened his blacksmith shop in a small building on Augusta Avenue (Great Clips and AMPI today). He specialized in ornamental wrought iron work for customers in Paynesville, Litchfield, and New London. An example of his work is the Good Shepherd figure found inside the Paynesville Lutheran Church.

He also repaired farm equipment, woodwork, such as hay racks and wagons, and in the evenings Alfred traveled to farms and did horseshoeing. ďHe sharpened many, many plow shears over the years,Ē Mrs. Alfred Louis said.

Paynesville had been without a blacksmith for 12 years before Alfred Louis moved to town from Chaska. He served the community 49 years before he retired in 1976. His five sons (Dale, Myron, Leo, Cecil and Adrian) all worked at the blacksmith shop while attending high school and college.

Today, two of his sons, Cecil and Leo Louis, have broken ground for a new 180 by 210-foot plant in Paynesvilleís Industrial Park. ďWe are looking and planning for the future,Ē the brothers said of the new project.

ďWe knew we had to do something to make the operation more efficient. When we had the opportunity to sell our existing buildings, we started planning for the new facility,Ē they said. It is their goal to be in their new facility by Jan. 1, 1999.

In 1976, they moved their business out of their fatherís blacksmith shop to the Industrial Park. The business started as a repair and custom manufacturing plant and went to steel fabrication and now is a steel service center.

The business has grown over the years and is now housed in three separate buildings. ďIt feels like we are running three separate businesses instead of one. The new facility will eliminate wasted space,Ē Leo said. The newest warehouse was constructed only two years ago, but they had outgrown itís space within six months.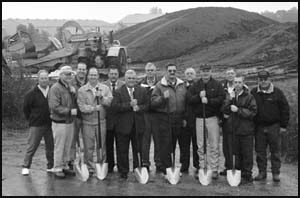 With the construction of the new facility, everything will be housed under one roof. ďThe new facility will make for a more efficient operation,Ē Cecil and Leo said. ďThe new building will feature a bridge crane the length of the building, making handling of materials more efficient and easier,Ē they added.
The new building will also feature a second laser to meet the demands on laser produced products.
Louis Industries employs about 22 people. Once the new building is completed, they hope to start a second shift adding a few additional people to their staff, utilizing their high tech equipment better.
Louis Industries ships steel products to a five state area. They also service eight to 10 light manufacturing shops within a 15 to 30 mile radius of Paynesville.
The building project will be done in two phases. The two phases are being financed with loans from the Small Business Administration, Tax Increment Finance District, Community First National Bank, and an EDAP Revolving Loan Fund.