Farmers harvesting bumper crops, but receiving low prices
This article submitted by Linda Stelling on 10/6/98.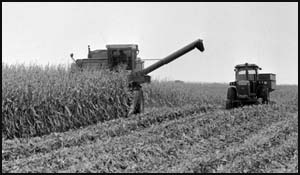 Farmers have been busy in the fields harvesting what some consider record yielding crops.

Harvest of crops is ahead of schedule according to most area farmers. In an average year, they would be just finishing up chopping silage nonetheless finishing harvesting their soybeans and corn.

Gary Reeck, north of Paynesville, said they are through combining soybeans. Yields averaged in the 50s. They started harvesting corn on Friday.

"The beans were plenty dry start to finish. In a few fields the stalks were still green but the beans were amazingly dry," Reeck said.

Reeck had to sell last year's crop to make room for this year's harvest. He added a Sauk Centre farmer has rented Nosbush's bins to store his old crop, making room on his home farm for the 1998 harvest.

"It isn't often we are through harvesting beans in September," Reeck added.

Mary Kunstleben said their corn yields have reached 230 bushels per acre in places. The Kunstleben's were busy in the fields Friday, hoping to harvest as much corn as possible before the predicted rains moved into the area.

Mrs. Kunstleben said they had enough storage room to hold this year's harvest. "We'll store the crop until the prices get better," she added. "It's hard to image they expect farmers to stay ahead with prices as low as they are when they have to pay for their seed, fertilizer, and the wear and tear on their machinery."

Mrs. Debi Johnson, south of Paynesville, said their beans are average considering their area didn't get the rain when needed.

"We have room to store everything on the farm," she added. "We'll wait for better prices. Prices could get worse."

Jason Schefers, north of Paynesville, said they have 170 acres of corn to harvest. They had planned on starting harvesting this week, but the wet weather changed their plans.

Schefers said they sell their crop to a place in the Twin Cities. Prices aren't good, but better than here. Corn prices were at $1.68 last week. "Last year we sold our corn right out of the field for $2.48 per bushel," he added.

Roger Bagley at the Regal Elevator said the prices are really hurting the farmers. Corn prices are at a 20 year low at $1.37 per bushel as of Oct. 1.

"Farmers are reporting soybean yields anywhere from 45 to 60 bushels per acre. The moisture content has been ideal averaging anywhere from seven percent to 12.4 percent," Bagley said.

Bagley said the corn yields have been reported anywhere from 150 to 200 bushels per acre.

"Farmers are storing this year's crops on the farm in hopes the prices come up. Maybe once the Asian market straightens out, farmers will see better prices," he added.

Brian Thorson, manager of the Paynesville Feed Service, doesn't recall yields this good before. "Soybean prices are anywhere from $4.58 to $4.64 per bushel. I was hoping the prices would be better by harvest time. Corn prices are at $1.38 per bushel.

"I don't ever recall corn this low since I have been in the feed business," Thorson added.

"Most area elevator's storage spaces are full. Farmers are storing this year's crop wherever they can find room. It will be a tough year for many farmers until prices rebound," Thorson said.

Pat Kearney, extension educator at the Kandiyohi County Extension office, said about 20 percent of the corn was out of the fields and over half of the soybeans have been harvested.

"The prices are scary, but I'm hoping the farmers will see better prices soon. A lot of farmers are being forced to sell last year's crop to make room for this year's harvest. Many of the farmers will be forced to take a loss as they need the cash to pay off bills," Kearney said.

"One option farmers have is to apply for a commodity credit loan and hold it for six months. That will help pay off the taxes which are due, land rent and other expenses associated with this year's crops," Kearney added.

According to the Minnesota Agricultural Statistics Service, 1998 row crops continue to be ahead of recent-year normals.

Corn grain production is forecast at 9.74 billion bushels, up two percent from last month.

Soybean production is forecast at a record high 2.91 billion bushels, up three percent from August. The record yield of 41.4 bushels was set in 1994. If this year's predictions are realized, this will be the second highest yield on record, according to the Minnesota Agricultural Statistics Service.

Last year net farm income plummeted 40.3 percent in Minnesota. And U.S. Department of Agriculture economists announced that they expect net farm income to drop 15.8 percent this year due to plunging commodity prices.

Hubbard County Extension Agency Will Ylimiemi said farmers are feeling the brunt of the international financial crisis. What began as an economic slowdown in southeast Asia has sent a quarter of the world market into a recession and discouraged demand for agricultural products.
---