Since exchange student Atanas Pastarmadzhiev arrived in Paynesville from Bulgaria, he's made a lot of new friends and learned about a new culture, but most importantly, Atanas has found a second family who is proud to call him one of their own.

"He just fits in. He's one of us," said Freda Jansen, Atanas' host mother since he arrived in Minnesota in late August, just in time for school.

Having Atanas around has been good for the Jansen family, especially for Jimmy Jansen, Atanas' host brother. According to Freda, the boys just meshed. "They feed off each other," she laughed. Since Atanas arrived, there's not been a dull moment at the Jansen household, she said. "We laugh a lot," she added.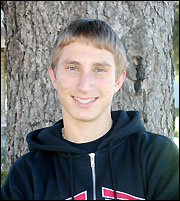 After the Jansen family contacted International Student Exchange about hosting a foreign student, they received pictures of several students looking for a host family. When Jimmy, a senior at PAHS, saw the photo of Atanas, he knew that was who the family should host. He wouldn't consider anyone else, said Freda. He had a sense that Atanas would fit in with the Jansen family, she added.
Atanas Pastarmadzhiev, an exchange student from Bulgaria, will spend the school year in Paynesville before returning home.
Atanas, 17, came to Paynesville from Yambol, Bulgaria, a city of 55,000 people about 150 miles east of Sofia, the capital of Bulgaria, and about 50 miles west of the Black Sea. As an urban teen, Atanas attends a Bulgarian high school with about 650 students and hangs out with friends in coffee houses, arcades, and discos after school. Life is different here, he said. Here, he spends a lot of spare time playing tennis, hanging out at home with his host family and his friends, and eating.
Americans eat a lot and eat often, compared to Bulgarians, according to Atanas. Other differences stand out also. In Yambol, people walk to their destinations a lot, which is rare here, he said.
Even things that seem the same are different. Last week, Atanas, who likes to fish at home, went fishing with the Trail Guards and learned to fish with a pop can and a drop line instead of a rod and reel. That was strange, he said.
A serious student, Atanas was pleasantly surprised when he began attending PAHS. He liked that everyone knows everyone else, which is unheard of in his urban school, and he likes the hands-on learning in his science classes. His school in Bulgaria has very little money, so science experiments and labs are a rarity, he said.
Other American things that have thrilled Atanas are golf, garage sales, and the lakes (although he misses the mountains of his homeland).
Atanas finds a few things confusing, though, like Minnesotan's love for country music, for ice fishing, and for football.
Bulgarians don't play football, according to Atanas, who is a well-rounded athlete. He plays soccer and tennis, he runs track, and he swims. But he doesn't understand football.
And while he finds the upcoming Homecoming events exciting (Atanas has been nominated for Homecoming king), he doesn't fully understand the tradition.
He also doesn't understand how anyone would want to fish on ice. Bulgaria, which is situated just north of Greece, is a warm country, and Atanas admits that he has never been truly cold, so he doesn't know what to expect this winter.
Atanas will spend the school year with the Jansens. After graduation from PAHS, he will return to Bulgaria where he will have two months to finish the year of work he missed, including Bulgarian literature and history.
He likes it here. "It is good now," he said, "I am friends with most of the guys," he added.
Atanas is very likeable, according to Freda, so making friends has been pretty easy, but he's never been away from home for so long, and he misses his parents, his brother, and his friends.
After graduation from his school in Bulgaria, Atanas hopes to become a pharmacist, and he might like to attend college in the United States.
According to Freda, the Jansen family has already started to dread the day when Atanas will have to go home. Freda, her husband, and all of their children, including the grown ones, consider Atanas a family member, she said.
For now, the Jansens and Atanas will enjoy every minute they have together, though a year isn't very long. "The time is going by very, very fast," said Atanas.
---
Contact the author at editor@paynesvillepress.com • Return to News Menu
Home | Marketplace | Community
---