When Cindy Lou Lane opened her new restaurant, Dizzy Dishes, in St. Martin, she wanted her customers to feel like they had taken a step back in time, back to the 1930s when Betty Boop was a star and prohibition was the law.

Dizzy Dishes, located on Maine Street in the same building as the former St. Martin Cafe, is a full service restaurant and lounge that Lane calls her "gin joint." The restaurant offers an array of menu items, ranging from hot dogs and hamburgers to "Bootlegger Bourbon BBQ Chicken" and capered shrimp.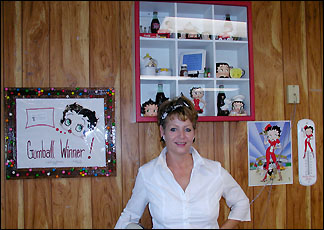 All of the potatoes at Dizzy Dishes are homemade - including the french fries, which are hand-cut and served with malted vinegar. Most of the bakery goods (pies, cakes, and breads) are baked onsite, too.
Cindy Lou Lane of Avon has opened a new restaurant, Dizzy Dishes, on Maine Street in St. Martin. The restaurant's theme comes from the 1930s with period music and Betty Boop decorations.
Dizzy Dishes offers strong beer, wine, and set-ups. Lane hopes the gin joint at Dizzy Dishes will become a favorite place to unwind after work, to watch a game on TV, or just to relax and listen to music from the 1930s.
Lane, who lives in Avon, has a lifetime of experience in restaurant management, she said. She's an avid collector and crafter and likes to ride her Harley Davidson motorcycle when she has spare time. She's active in fundraising for the Multiple Sclerosis Society and hopes to use gambling money from Dizzy Dishes to help the organization.
Dizzy Dishes is open Mondays through Saturdays from 6 a.m. to 10 p.m. and on Sundays for brunch from 9 a.m. to 3 p.m.
---
Contact the author at editor@paynesvillepress.com • Return to News Menu
Home | Marketplace | Community
---