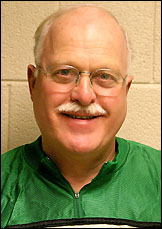 Virg Vagle, hired as a teacher in Paynesville in 1965, coached football for 32 years (30 as head coach), wrestling for 39 years (38 as head coach), and junior high baseball for 20 years.

The Lake Bronson, Minn., native and graduate of Augsburg College, played football and basketball in high school and learned about wrestling as a coach.

In football, he coached the Dogs to the Class A state semifinals in 1979, where they lost to Apple Valley 21-0, and to the Section B finals in 1991, where they lost to top-ranked Pierz 16-8 in overtime at the Metrodome.

In his 38 years of wrestling coaching, his teams won four state titles (1987, 1990, 1991, and 2000); took 17 trips to state; took first or second in the section in 25 of his last 28 seasons; won 29 conference titles, including an 18-year unbeaten streak in conference duals from 1975-1993; and accumulated 661 victories. He also coached 59 individual state placewinners, including nine individual state champions.

His wrestling teams, longtime assistant Bob Bowden said at Vagle's retirement after the 2003-04 season, were not always the most talented, but everyone knew their roles and did their jobs. No one got more out of average kids than Vagle, said Bowden.

Vagle taught mathematics and physical education at Paynesville Area Middle School until 2000, when he retired from teaching. He coached wrestling for another four seasons before retiring from that, too.

Vagle and his wife Pat have seven children and 12 grandchildren. Their five sons all played football and wrestled for Paynesville and set a career mark for a wrestling family with a combined 462-149-11 record.

Semi-retired, Vagle does financial planning and enjoys golfing, hobby farming, traveling, and being a spectator of all sports.

What is your fondest memory from coaching?
Not necessarily in this order, but these are all fond memories: (1) State tournament experiences, especially the state championships because you all accomplished your ultimate goal together; (2) Being involved with some of the less talented teams, which achieve more than anyone expected, was also very satisfying but in a less glamorous way; (3) The relationships developed with the athletes and coaches who bought into the idea of being the best that they could be and accomplishing special things with their teammates.

How did high school athletics prepare you for life?
My athletic experiences as a youngster provided me with some of my biggest thrills growing up and taught me lessons on teamwork, meeting challenges, perseverance, hard work, etc. I am glad I had the opportunity to coach at the great community of Paynesville and hopefully pass on some of the lessons I had learned. Hopefully some of the young people we had a chance to coach are a little better off today than they might have been without athletics. I was very fortunate to get an opportunity here. The athletes, parents, fellow coaches, and fans were all so supportive and involved. It made Paynesville a great place to spend my career.
---
Contact the author at editor@paynesvillepress.com • Return to News Menu
Home | Marketplace | Community
---