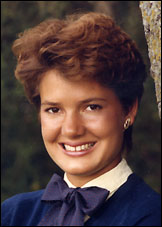 Sara (Realdsen) Lein, Class of 1986, earned nine letters at PAHS, three each in volleyball, basketball, and track. She was the co-captain of each sport her senior season and was named the outstanding female opponent from the Glenwood High School Lakers Booster Club.

In volleyball, Lein was a setter and earned All Conference honors her senior season.

In basketball, the guard/forward earned honorable mention honors her junior year and All Conference honors her senior year, when she was also named the team's MVP.

In track, Lein earned All Conference honors as a ninth grader, junior, and senior as a sprinter and long jumper. Injuries hampered her both her sophomore and junior seasons, but she won the 100-meter dash and took second in the 200-meter dash at regions her senior year. Her winning time of 12.40 seconds in the 100-meter dash set a meet record that still stands nearly 20 years later in Section 6A.

At state, Lein earned All State honors by placing fourth in the 100-meter dash and just missing a medal by placing seventh in the 200-meter dash in a photo finish.

Lein attended Jamestown College in Jamestown, N.D., where she played volleyball for two years and ran track for four years. She still has the third fastest time in the 100-meter dash in Jamestown history and was part of the school record in the 400-meter relay. Her relay team finished seventh in the NAIA national meet in 1989, and she earned Academic All American honors her junior and senior years. Since graduating with a degree in elementary and physical education, Lein has taught in California and currently in an inner city public school in St. Paul. She lives with her husband Bob and teenage daughter in Woodbury. Her current athletics include walking, biking, and an occasional fitness class. She has moved to the bleachers, she said, to cheer her daughter at swim meets.

What is your fondest memory from high school?
My fondest memories of high school athletics involve the great times spent with friends. There were many moments spent sitting on the pole vault port-a-pits, just hanging out between workouts, the lockerroom conversations, bus rides, and encouraging words between drills kept me motivated to keep working.

I was fortunate to meet a lot of special people involved with PHS athletics, including my teammates, my coaches, and the many athletes that I competed against.

How did high school athletics prepare you for life?
High school athletics prepared me for life by instilling the values of hard work, effort, and discipline. I learned to be focused and set goals.

So many of the lessons I learned on the track or on the court have applied to other areas of my life as well. The dedication I had towards succeeding in athletics was also used in the classroom, or in job situations, or even in relating to other people. Being an athlete and being part of a team gave me an identity that has carried me through my life.

Why do you consider yourself lucky to have graduated from PHS?
I feel very fortunate to have graduated from Paynesville High School. I believe that I had opportunities there that I may not have had in other schools. I have since lived in several other areas of the country, from Southern California to rural North Dakota to the Twin Cities suburbs, and I am very grateful to have grown up in Paynesville.

There were so many teams, clubs, and activities to get involved in. I always felt that I had options and could choose to do as much as I wished. In a smaller school, they do not have as many choices and, in a larger school, you need to select one or two sports and then specialize if you want to make the team.

Paynesville High School was the perfect place for me to be. There was a sense of community and pride felt, being a part of this school and its athletic teams. I returned home this past spring to cheer on the PAHS baseball team at the state tournament and again felt the pride of being a Bulldog. Once a Bulldog, always a Bulldog!
---
Contact the author at editor@paynesvillepress.com • Return to News Menu
Home | Marketplace | Community
---