The Paynesville Area Hospital District Board of Directors approved a budget, expecting a profit of $1 million for the Paynesville Area Health Care Sytem (PAHCS) - the district's tradename - for 2006.

After two years of running in the red, PAHCS posted profits of $1.4 million in 2004 and projects profits of $0.775 million in 2005. Its 2005 fiscal year ended on Sept. 30, 2005, and its 2006 fiscal year started on Oct. 1, 2006. It runs through Sept. 30, 2006.

PAHCS budgeted a profit of $1 million for 2005 last September and still expects to clear $0.775 million. During the past year, though, PAHCS found that it was being overcompensated from Medicare and paid $0.423 million back as a settlement. Through 11 months (through August), PAHCS had posted a profit of $0.72 million so far this year.

Still, two years of running in the black have improved PAHCS's financial situation immensely. Over the past year, PAHCS has spent $1 million for capital improvements (equipments, etc.) and also funded its reserves by $1 million.

In 2006, PAHCS again expects to spend $1 million for capital improvements, to add $1 million to its reserves, and to record a profit of $1 million.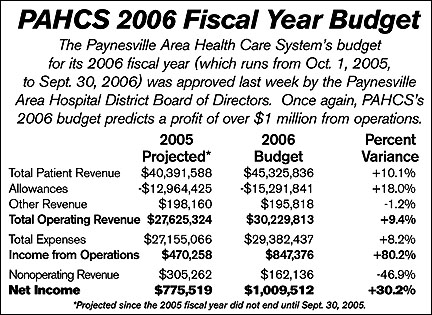 According to its budget, PAHCS expects to bill more than $45.32 million in patient revenue from its hospital in Paynesville, its clinics, and its long-term-care facilities. Patient revenue for 2006 includes a six percent price increase, a two percent increase at nursing homes (as established by the state), and a three percent volume increase (including 6,000 visits to PAHCS's new clinic in Cold Spring, which should open in November). Chief financial officer (CFO) Kirk Johnson told the hospital board last week that PAHCS had conducted a pricing study to determine how its rates compare to its competitors and to state averages. They identified areas where PAHCS was high and low and have changed prices accordingly. That six percent price increase is an average, as some services changed more or less, depending on the study results.
After discounts (to government programs and to insurance) that total an expected $15.29 million and other revenue of $0.20 million, PAHCS budgets $30.23 in total operating revenue, up 9.5 percent from its estimated 2005 total.
Expenses are budgeted at $29.38 million, up 8.2 percent from 2005, yielding a budgeted profit from operations for 2006 of $0.85 million. Adding $0.16 million in expected nonoperating revenue makes a grand total of $1.01 million in profits for 2006.
PAHCS's financial picture is much stronger than a couple years ago, both Johnson and CEO Steve Moburg told the board, but it still could be improved. On a number of financial ratios, PAHCS is improving, but still behind industry standards. For instance, in total days cash on hand - a measure of financial reserves compared to expenses, judged by how many days of expenses could be paid by reserves - PAHCS was at 18.1 days of cash on hand in 2004, up to 30.1 days of cash on hand in 2005, and wants to improve to 33.0 days cash on hand in 2006. (The more days cash on hand indicates larger reserves.)
The national average for hospitals similar in size and function to PAHCS is 41.8 days cash on hand and the state average for similar hospitals is 59.7 days cash on hand.
Moburg reiterated to the board that PAHCS's goal is have 60 to 90 days cash on hand. PAHCS has made progress financially in the last two years, he noted, especially considering that its days cash on hand were running in the negative two years ago, when PAHCS had to utilize a line of credit for its cash needs. Moburg complimented the board for their commitment to improve PAHCS's finances but reminded them that more work needed to be done. "The finances look a lot better, but we still have a long way to go," he told the board.
With $1.55 million in reserve now - $1 million in a plant fund and $0.55 million in operating savings - the hospital board also approved an investment policy last week. PAHCS intends to use UBS Financial Services, a company with experience in investing for municipalities, to invest $0.7 million of its reserves in principal-safe investments, principally government-back bonds and securities, said Johnson. PAHCS will utilize CDs for another $0.3 million of its reserves, while keeping the rest in cash accounts.
PAHCS's investments and reserves will be structured so that a portion of its portfolio would mature each year, in case PAHCS would have a need for the cash. (If PAHCS knows of a project or cash need in advance, it could plan ahead and have more of its investments and reserves mature at a specified time.) PAHCS expects to return 4.69 percent or so from its investments and 3.5 percent or so from its CDs.
---
Contact the author at editor@paynesvillepress.com • Return to News Menu
Home | Marketplace | Community
---