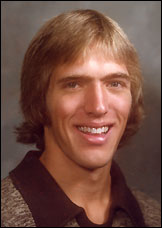 Loren Wendroth, Class of 1979, lettered ten times in his high school career in cross country, basketball, and track and field. He was a state entrant three times (twice in track and once in cross country), a District 20 individual champion seven times, and was a top runner on the Dogs' first team entrant in state cross country in 1977.

In his three years in cross country, Wendroth earned All Conference honors twice and won the District 20 meet twice. As a junior, the Dogs won the conference and district titles, took second in Region 5A, and placed ninth in Class A at the state meet. Wendroth was third at regions that year, to qualify for state individually, and was 17th at state. The Dogs, however, did not make a return trip to state in 1978, finishing fifth at a home region meet at Koronis Hills. In basketball, Wendroth was team MVP his junior and senior years.

In track, his best event was the 880-yard run. He placed third at regions as a sophomore, first as a junior, and first again as a senior. He placed fourth in state as a junior in the 880 and second in state as a senior, earning All State honors both years. He finished one tenth of a second away from winning the state title in the 880 his senior year. He still holds the school record in that event and also set school records in the 440-yard dash, the indoor high jump, and as the anchor leg on the mile relay.

His senior year he won two events at the conference meet and anchored a winning relay, helping the Dogs win the team title.

Wendroth lettered in track at Moorhead State University for two years, earning All Conference honors three times, being named Freshman of the Year, and helping set a school record in the 3,200-meter relay.

Wendroth and his wife Robyn live in Rochester, Minn., with their two teenage children. Since graduating from MSU in 1983, Wendroth has worked for State Farm Insurance. He continues to run regularly, coaches his son's basketball team, and enjoys watching his children's sports events and keeping track of sports results in Paynesville.

What is your fondest memory from high school?
When I think about my years of participation in athletics at PHS (and I certainly do every once in a while), I always think about the friendships made during those years. I was fortunate enough to be able to participate in three different sports each year and to be able to get to know many people on a level that is far different than that of the classroom.

My fondest memory of all has always been the fact that I had the opportunity to be a teammate of my brother Larry throughout my high school career. We were inseparable on and off the field/court, and I will never forget those times. High school athletics helped to form a bond that can never be broken.

How did high school athletics prepare you for life?
There are so many things that high school athletics did to prepare me for life, and I know for certain that I have had a more successful adult life because of my involvement in sports at PHS. I learned how to participate and function as part of a team and the value of working together as a team. It is knowledge and skills that I use daily in my business.

I also learned the value of fair and honest competition and how to win and lose graciously as well as to be able to persevere in the face of adversity (injuries, defeats, etc.). Athletics mirror life in so many ways. Throughout my years of competition, I learned that it is not about the obstacle, but rather how you respond to it that makes the difference.

Lastly, I learned that a good attitude, combined with hard work, does make a difference in athletics and in life.

Why do you consider yourself lucky to have graduated from PHS?
Any high school student would be fortunate to have the opportunity to attend and graduate from PHS. I certainly put myself in that group. I consider myself extremely lucky to have had the chance to attend school in Paynesville. My classmates and I benefitted from a caring and knowledgeable teaching staff and received a quality education. It was an atmosphere that allowed everyone to know everyone and still be an individual.

I formed friendships that will be important to me for the rest of my life. Nearly every day, I proudly tell my clients where I am from, where I went to school, and what a great place it was and continues to be to this day.

Lastly, and certainly not leastly, PHS is where I met my wife Robyn. We were classmates, and both still feel that our years at PHS are something to treasure.
---
Contact the author at editor@paynesvillepress.com • Return to News Menu
Home | Marketplace | Community
---