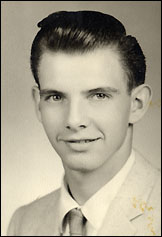 Don Liestman, Class of 1958, earned 13 letters during high school in football (three), basketball (four), baseball (four), and track (two).

In football, he quarterbacked the team to a co-championship in the Central Gopher Conference as a junior, earning honorable mention honors. His senior year he earned All Conference honors and led the conference in scoring.

In basketball, he started playing varsity as a freshman and played for four years on the varsity, setting the school's career scoring record (1,256 points) that still stands. He earned All Conference honors his junior and senior seasons as a guard and was third in the conference in scoring his senior year.

Leading the Central Gopher Conference in scoring in 1957-58 was Foley center Norm Grow, who ended his career as the state's leading scorer, since eclipsed. During the games their senior year, Grow outscored Liestman 31-22 as Foley won 53-44 and 48-33 as Foley won again 89-66. Grow led the conference in scoring, averaging 40 points per game. Liestman average 20 points per game in conference and 23 points per game overall.

He was named to the all-area team by the Willmar Tribune and to the weekly all state team by WCCO Radio four times.

The Bulldogs lost to Willmar in the district semifinals in 1958.

As a junior, Liestman set the single-game scoring record with 37 points against Sauk Rapids, a record that stood until 1990.

In baseball, Liestman earned All Conference honors his junior and senior seasons. The Dogs won the conference title his junior year and the sub-district title his senior year. Liestman attended SCSU for a year and a half after graduation, earning a letter in baseball and playing freshman basketball.

He played shortstop and hit leadoff for the Paynesville Lakers for many years, also managing the team. He also played in three fast-pitch softball world tournaments.

Liestman and his wife Jeanne live in the Paynesville area. They have three children, ten grandchildren, and five great-grandchilden. He works as an agricultural commodity grader for the USDA in Willmar. His hobbies are hunting, fishing, and watching his grandchildren participate in sports.

What is your fondest memory from high school?
One of my fondest memories of high school athletics was breaking the individual high school scoring record. Setting the record for most points scored in a game (37) his junior year.

How did high school athletics prepare you for life?
High school athletics taught me the importance of sportsmanship and that it doesn't matter if you win or lose as long as you give 100 percent. Also, the respect and importance of friends you make throughout your high school career.

Why do you consider yourself lucky to have graduated from PHS?
I consider myself fortunate to graduate from PHS because of the education I received and that our school had a great athletic program. The teachers, coaches, students, and townspeople were very supportive of PHS athletics.
---
Contact the author at editor@paynesvillepress.com • Return to News Menu
Home | Marketplace | Community
---