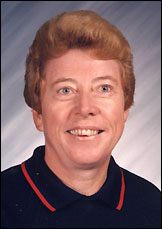 Carol Smith, who taught and coached at Paynesville Area High School from 1971-2003, never got a chance to play high school sports herself. Graduating from Litchfield High School in 1965 and then from St. Cloud State University in 1969, there weren't any intercollegiate sports until her senior year at SCSU when she played shortstop for the softball team.

She taught at Mora High School from 1969-71 and advised the cheerleaders and pom pom girls and coached their first girls' basketball team in 1970.

Coming to PHS to teach health and physical education in 1971, she first worked with intramural sports for girls. Then she was the first head coach for the following sports: gymnastics (1972-74); girls' track and field (1972-75); girls' basketball (1973-79) (first as a fall sports, due to gym space, and later moved to winter); volleyball (1975-87); and softball (1981-92). She continued as a junior high softball coach from 1993-2000.

The struggle for fan appreciation, fair gym time, and decent facilities for girls' sports was slow and arduous at first, Smith told the Press in 2003. At a track meet, for example, the girls had to run through the outfield while a baseball game was in progress; if a girl got hit, it would have been ruled a ground-rule double.

Upon retiring, Smith said she was proud to see the large number of girls participating in sports these days. "It was challenging," she said, "but it's come a long ways."

"These days," she added, "girls kind of take for granted that they have the right to play in sports and the right to good facilities."

This, Smith knows of course, was not always true.

Smith recalled that the best volleyball team she coached at PHS was in 1979 when they won the Central Gopher Conference with a record of 12-0 and went 13-1 overall. Smith, who retired from teaching in 2003, has played softball in the summer since 1969 and volleyball since 1974. She also used to play tennis and still enjoys golf.

Smith still resides in rural Paynesville and also enjoys cooking, gardening, woodworking, reading mystery novels, working out, walking with her three dogs, traveling, volunteering, and being a sports fan.

How did high school athletics prepare you for life?
There weren't any high school athletics for girls at Litchfield High School when Smith graduated in 1965.

Why do you consider yourself lucky to have coached at PHS?
I enjoyed coaching at Paynesville High School. We had many challenges to overcome while starting the various girls' athletic programs at PHS. It is great to see the progress and the many opportunities the girls have today.
---
Contact the author at editor@paynesvillepress.com • Return to News Menu
Home | Marketplace | Community
---