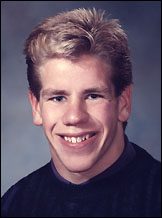 Brad Fenske, Class of 1992, played football and wrestled for PAHS, earning seven letters and helping the Bulldogs win two state titles and place four times as a team at state in wrestling. He also helped the Dogs reach the section finals in football as a senior.

A two-year starter in football, Fenske played guard-center on offense and linebacker on defense. In 1991, the Bulldogs, only 3-5 in the regular season, made a run to the section finals. Fenske had 15 tackles, an interception, and a fumble recovery in the first game, a 38-14 win over Long Prairie, and then had 21 tackles as the Dogs upset NL-S 14-8.

In the section finals, the Dogs faced top-ranked Pierz at the Metrodome and led 8-0 for most of the game before Pierz scored in the fourth quarter to force overtime and then won 16-8. Fenske set a school record (since broken) with 27 tackles in that game.

For the season, Fenske earned All Conference honors and set three school records that still stand: most joint tackles in a season (128); most joint tackles in a career (212); and most total tackles in a season (177).

In wrestling, Fenske is one of nine individual state champions for the Bulldogs, winning the 140-pound title as a senior in 1992. He is one of six Bulldogs to place at state individually three times: placing second as a sophomore, third as a junior, and first as a senior.

The Dogs enjoyed their finest run as a team thanks to Fenske and his classmates, who placed third in 1989, first in 1990, first in 1991, and second in 1992, when they were upset in the final.

Fenske still rates as a career leader in a host of wrestling categories for the Bulldogs. He is fourth all-time with 153 career victories and, among the 26 Paynesville wrestlers who have won 100 career matches, he rates second all-time in winning percentage (.891), just behind David Kerzman (.894).

Even before high school, Fenske won a state and then national freestyle wrestling title in 1988.

After high school, Fenske attended the U.S. Military Academy at West Point, where he lettered four years in wrestling. Twice he was team MVP, he served as captain his senior year, and he qualified for nationals his junior and senior seasons. He finished one win shy of being an All American in 1997.

His collegiate record of 126-49 was the Army school record until 2005.

Since being commissioned, Fenske has risen to the rank of captain in eight years. He and his wife Angela and their two sons have moved six times in eight years. Among his deployments in military intelligence, Fenske served in Kosovo for six months in 1999 and has served twice in Iraq.

He and his family are currently living in Bloomington, Ind., where he is studying to get a master's degree in kinesiology. Once he earns his degree, he will return to West Point to teach.

Fenske still runs, lifts weights, bikes, and enjoys assisting his son in youth wrestling.

What is your fondest memory from high school?
A tie between playing in the section final for football in the Metrodome (1991) and winning two team wrestling titles (1990 and 1991). How did high school athletics prepare you for life?
High school athletics prepared me for life by teaching me how to work hard and the importance of commitment.

Why do you consider yourself lucky to have graduated from PHS?
I feel fortunate to have graduated from PAHS because of its small-school atmosphere where you can get to know many of your classmates and teachers well. Also, I had the excellent opportunity to compete in successful sports programs with outstanding coaches like Virg Vagle, Steve Fuchs, and Kyle Nehowig.
---
Contact the author at editor@paynesvillepress.com • Return to News Menu
Home | Marketplace | Community
---