The proposed 2007 property tax levy for the Paynesville Area School District #741 increased by $121,929, or 8.37 percent, from its 2006 levy.

In 2006, the district levied $1.46 million in local property taxes; its proposed levy for 2007, approved last week by the school board, is $1.58 million.

The school district is required to pass a preliminary levy by the end of September in order for the county auditor to know the levy to prepare preliminary property tax notices.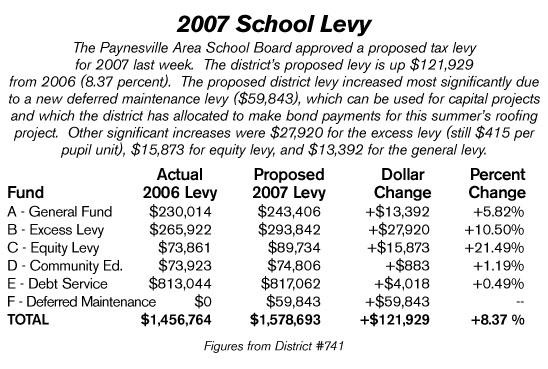 The district levy will be the subject of a truth-in-taxation hearing in early December. Later in December, the school board will need to approve the final levy for 2007.
The largest increase in the proposed levy is a new deferred maintenance levy ($59,843), which can be used for capital projects. The school district bonded for $440,000 last spring in order to do a roof replacement project this summer. It plans to repay those bonds by using this deferred maintenance levy.
Other proposed levy increases for 2007 are: excess levy (up $27,920); equity levy (up $15,873); general fund (up $13,392); debt service (up $4,018); and Community Education (up $883).
The district, once again, proposed levying the maximum amounts allowed by the state for 2007.
Superintendent Todd Burlingame warned the school board that the proposed levy would likely change, perhaps several times, between now and December.
The proposed levy ($1.58 million) would be the highest for the school district since 2001, when it levied $2.23 million. In 2002, the state assumed funding for much of local property tax levies by schools, and the local school district levy dropped to $0.96 million.
Paynesville passed a $415-per-pupil excess levy in April 2002, raising the district's property tax levy to $1.41 million in 2003.
In 2004, the levy declined to $1.26 million, in 2005 it increased slightly to $1.28 million, and in 2006 it increased to $1.46 million.
---
Contact the author at editor@paynesvillepress.com • Return to News Menu
Home | Marketplace | Community
---