Gardner, Binsfeld selected to All-State Junior High Choir
This article submitted by Linda Stelling on 10/4/00.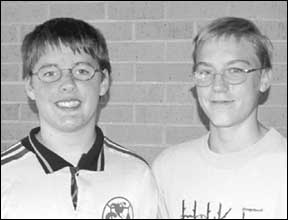 Ninth graders Matt Gardner (at left) and Nick Binsfeld (at right) were selected to perform in this year's All-State Junior High Choir, named "Anacrusis."

The students submitted a taped audition to the Minnesota Music Educators Association. They were selected in a blind audition process of junior high singers from all over the state.

On the audition tapes, the boys were required to sing a major scale, "America," and a portion of "You Stole My Love." The auditions were open to vocal music students in seventh through ninth graders. Binsfeld is a tenor and Gardner sings bass.

They will rehearse and perform at the fall Minnesota American Choral Directors Association (MMEA) con-vention on Saturday, Nov. 18, at St. Cloud State University and again at the MMEA convention in Minneapolis on Thursday, Feb. 15.

Adam Ingalsbe, a tenor, was selected as an alternate, in case one of the selected singers is unable to participate.

Binsfeld is the son of Harold and Jan Binsfeld. Gardner is the son of Bob and Phyllis Gardner. Ingalsbe is the son of Dave and Barb Ingalsbe.

Paynesville has had five other vocal music students accepted into the All-State Junior High Choir. They are Jennifer Skrypek, Mike Thompson, Curtis Christian, Casey Kavanagh, and Eddie Gardner.
---